Fotor fixes photos fast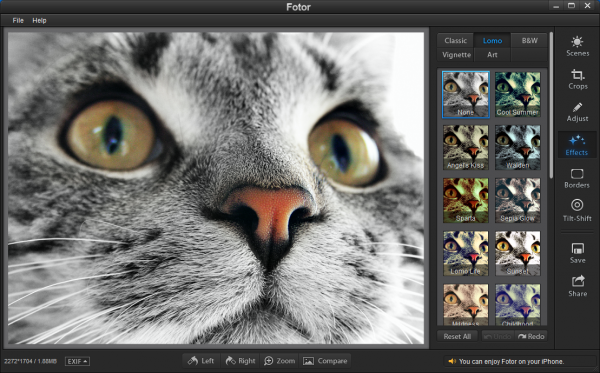 Already well known for its easy-to-use iOS and Android photo editing apps, Fotor has just entered the desktop market with the release of the free Fotor 1.0.0 for Desktop and Mac.
And while the program is relatively simple, oriented more to quick optimizations rather than complex edits, it's also very easy to use, and has more than enough functionality to justify a download.
If a picture has lighting issues, for instance, you don't have to start playing around with brightness, contrast, colors or anything else. Just choose the conditions which applied when the photo was taken -- "Backlit", "Cloudy", "Sunset" and so on -- and the program will automatically optimise the image for you.
If the lighting is fine, but you'd just like it to look a little more interesting, then Fotor has 60+ colour and lighting effects which could help. Again, it's all very easy. Choose a category from the list ("Classic", "Lomo", B&W", "Vignette", "Art"), and thumbnails will show you how the current picture will look for every available effect. And if you see something you like, simply click it for a closer look.
It's just as easy to add a border to your image (and there are 30 available).
A very configurable Tilt-Shift effect allows you to fully customise the strength and position of the blur.
If you prefer more practical options, then there are also tools to rotate or straighten your image; sharpen or blur it; tweak exposure, brightness, contrast, saturation, temperature and tint; crop your photo, and view its EXIF data.
And when you're ready, there are tools to quickly share your images on Flickr, Facebook and Twitter.
If there's a small problem here, it's that the Fotor interface still feels more like an app than a Windows application. You can't open multiple images at once, for instance. There's no edit menu here, no right-click options. There are no single letter shortcuts for menu items (you can't press Alt+F, O to open a file, say), and other standard hotkeys -- like F1, for instance -- aren't supported at all.
Still, once you've got used to this, Fotor does prove to be very quick and easy to use. Some of its tools are very capable (there's an excellent Crop function, for instance), and on balance it's a simple but effective way to optimise and share your latest photos.