Better Bing blesses Windows 8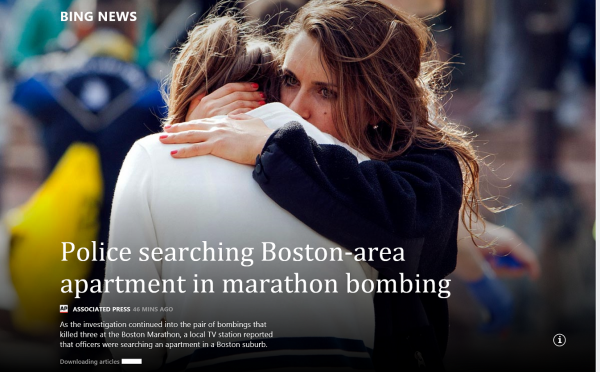 In case you missed the update, because I nearly did, Microsoft brings better Bing apps to Windows 8. They dropped yesterday, but I'm just getting round to them today. I love `em. The search engine is hugely underrated compared to Google, and the core services look so damn good and feel even better from a touchscreen.
In a self-aggrandizing post, the Bing team describes core apps Finance, Maps, News, Sports, Travel and Weather as "immersive vertical experiences". I so totally agree. Modern UI offers the most immersive experience on tablets, for fully-supporting apps. Microsoft claims that they "were designed from the ground up to embrace speed and touch providing you with a fast, fluid and consistent way to delve into your interests and get things done".
As a user, three of the updates are most useful -- News, Maps and Weather. I don't invest, have limited sports interest and don't travel enough.
News. Bloggers and some news sites obsess over Google News, using every trick imaginable to get placement, hoping for surge that can deliver tens of thousands of pageviews in minutes. Hell, I never look at the thing. Google News is a drug habit. I won't be addicted.
But Bing News is fanciful for increasing utility. Just as Google dumps RSS and sends Reader to the executioner, Microsoft supports feeds, and offline reading. Yeah, I'll give Bing News a hard looksee.. Oh yeah, there's support for alerts, something else getting the big Google boot.
Maps. Google is hard to beat in this area, but Bing is no slouch, either. Microsoft adds more real-time information, which makes getting around lots better -- well, I say from first-blush look. I need to get out on the road to say for certain.
Weather. Microsoft's app is my favorite from anybody. Weather information is well-presented -- and lots of it. The thing is so damn immersive, I get sucked in looking for stuff everytime I open it. The new dynamically roaming weather maps are chock full of useful information.