Facebook for iOS 6.0 adds floating chat heads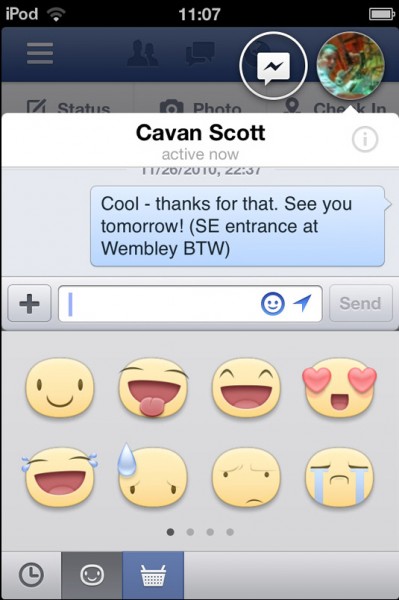 Facebook has released Facebook for iOS 6.0, a major update for its iPhone and iPad app. The major new feature in version 6 is the introduction of "chat heads", which allow users to chat from anywhere in the app -- this feature isn't yet universally available, but should be rolled out to all users "soon", according to Facebook.
Chat heads are small circular icons representing both individual chatters and Facebook Messages. The chat head appears automatically when receiving a message, or can be manually set up by tapping the contact's name in the contacts list.
The chat heads float on top of the main Facebook window: users can continue to use other parts of Facebook such as the news feed, then resume chatting by tapping the appropriate chat head icon. Icons can be dragged into new positions on-screen, while users can temporarily close the chat window by tapping away from it. The chat head icon can be removed simply by tapping and dragging the chat head down on to the close button at the bottom of the screen.
The new feature is accompanied on the iPhone with the addition of support for inserting stickers -- large smiley icons -- into messages. Tap the smiley button to select one of 32 pre-included smiley faces, while more icons can be downloaded via the Sticker Store, which is accessible by tapping the blue basked icon. At the present time seven additional stickers are available -- all free.
iPhone users also gain support for customizing their feed, with support for browsing new feeds like Music, Photos and Games.
While iPad users don't gain stickers with this build, they will find the main screen has been redesigned to bring photos and other pictorial elements front and center. This mirrors developments made to the main Facebook.com news feed last month, a feature that Facebook claims populates the feed with "brighter, more beautiful stories".
Facebook for iOS 6.0 is available now as a free download for iPhone, iPad and iPod touch.