Jolicloud update brings search, new services and more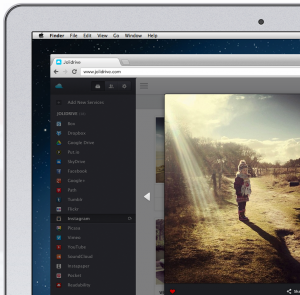 Jolicloud may perhaps be the coolest cloud service you have not yet discovered. Created back in 2009, the company derived from Joli OS into a platform to access your cloud-based online life. It brings together everything you have stored on all of the various cloud services and, if you are like me, then that can be a wide net to cast.
The service finally adds search -- a feature long sought after by users. The company announces that it has "made it very easy to search anything you have in your Jolidrive: music, photos, documents, videos in your online storages but search can also help you find great content in all your favorite social services like Instagram, Tumblr, SoundCloud, Youtube and more".
This encompasses all of the cloud services compatible with Jolicloud, including Box, Dropbox, Google Drive, SkyDrive, Facebook and more.
The news does not stop there though. The company goes on to point out new cloud services that are available within the platform. These include Exfm, Ubuntu One, Cloud App, Google Plus, Vimeo and Tumblr.
Finally, the service releases a brand new "explore" feature. "Combined with search we have created a powerful discovery feature letting you hop from users to locations or keywords. It's a great way to discover new music, photos and videos that you can like and share with your friends" the Jolicloud team claims.
The service has remained a hidden gem of sorts on the internet, but the continued innovation and updates may finally change all of that as it moves closer to the mainstream.