Apple sells unlocked T-Mobile iPhones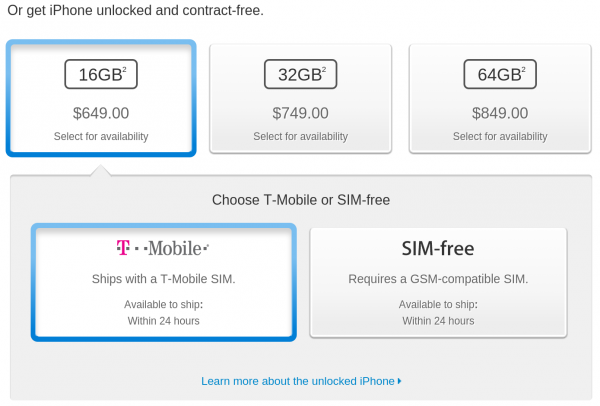 Eight days ago, iPhone 5 debuted at T-Mobile. I should have watched more carefully. The carrier also has iPhone 4 and 4S, and that surprises me. I wondered if Apple Store would carry Pink's variants, too, given the comparatively low starting price. Yes is the answer, and cleverly.
From AT&T, Sprint and Verizon, the 16GB iPhone 5 is $199 upfront with 2-year contractual commitment. T-Mobile's handset sells for $99.99 down plus 24 $20-month payments, no contract required. Surely, the three big carriers would gripe if Apple listed their phones alongside T-Mobile's for twice the upfront price. Solution: The fruit-logo company sells Pink unlocked for full price and T-Mobile SIM. But typical of Apple, expect no bargain. T-Mobile sells the phone for $579.99. Apple asks $640.
Price for unlocked 16GB iPhone 4S from the manufacturer is $450, 99 cents more from the carrier. The phone is $99 with 2-year commitment from the big three. Pink is $69.99 upfront plus 24 $20 payments. iPhone 4 is $549.99 from T-Mobile, Apple is 99 cents less. On contract, the big three charge nothing upfront. T-Mobile takes $18 plus 24 $18 payments. Hell, I'd pay $30 more for iPhone 5 and two bucks extra per month instead.
Here's reason to check with T-Mobile first. According to the company's website, neither iPhone 4 or 4S is available for my area (San Diego), but Apple Store will sell me either handset. That's no assurance the network supports them.
Perhaps this is all old news to you, but it's not to me, which is why I punched out the quickie post. Surely someone else would want to know, too.