Google celebrates Earth Day with animated Doodle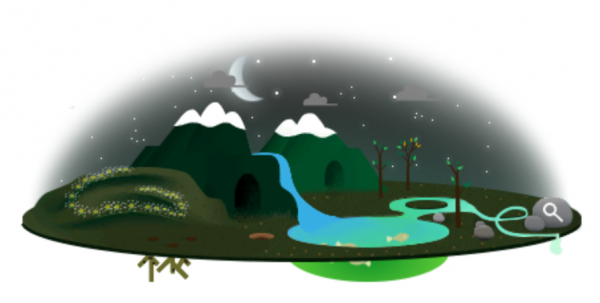 While I tend to visit the Google site daily, it is not to conduct a search -- I can do that from the Omnibar in Chrome -- but to simply to see if there is a new Doodle. Perhaps a silly reason, but it only takes a couple of seconds and sometimes I am rewarded with a small bit of entertainment.
With today being Earth Day, which was first held on April 22nd 1970, I expected a nod from the search giant and I was not disappointed.
To celebrate the occasion, the company posted a nifty little animated Doodle that you will need to sit and observe for some time to fully appreciate. At first glance it seems simple enough -- the sun rises, travels across the sky and sets. But watch it long enough and you will note that each day is a different season and each night a different phase of the moon rises and travels across the sky.
A Google Doodle is certainly not news, as the company produces them quite frequently -- you can even view a gallery of all of the past iterations. But today's version provides a bit of entertainment and forces you to watch a little longer. Perhaps the best doodle since Google made PAC-MAN playable back in 2010.