Enable Google Drive's new 'Offline' feature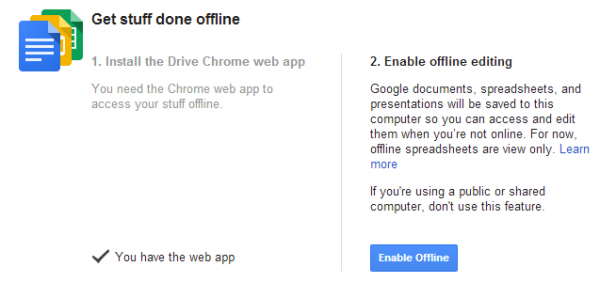 While it did not grab a lot of attention, this week Google rolled out version 1.9 of its Drive app for both Windows and Mac users. The cloud storage service adds a number of new features that should improve the experience for its customers -- and that is anyone who has a Google account, because Drive and 5 GB of free storage come along with that account.
The latest version contains added-features in the right-click context menu available from within your file system explorer, including sharing and also the ability to view the file on drive.google.com.
Google Drive also claims faster access speeds. According to the Release Notes, the company claims that "downloads now take about 50 percent less time. For accounts with many small files, the speed improvement is even more pronounced". There is also the addition of smarter delete dialogs (originally introduced in version 1.8) and improvements to sync status overlay icons for Mac users.
The most intriguing new feature is the promise of offline access to your files. However, while Google is big on telling us of this new capability, it's short on details about how to actually access files in this way.
Fortunately the capability is not difficult to set up, but does require that you have the Chrome web browser installed. If you do, then fire it up and head over to drive.google.com and log into your account.
In the left column you will spot a dropdown menu labeled "More". Click this and then select "Offline". If you do not yet have the Chrome plugin for Google Drive installed then you will be prompted to do so. If you have it then you can proceed to step two, which is simply clicking the "Enable Offline" button.
You will now be able to access your most recent Google documents on drive.google.com, even when you are offline. Simply open any Google document from your local Google Drive folder and Chrome will display the file for you to edit. Any changes you make will be synced the next time you connect to the Internet.
If you have the need, then you can also return to "More", "Offline" and disable the feature as well. The offline mode works with all compatible Google Docs and Office file types, as well as images.