Nexus 7 dock review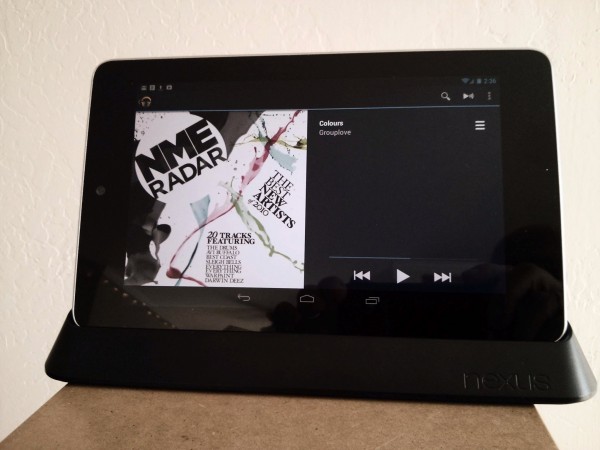 Accessories can make a portable device better. If you own the ASUS-manufactured, Google-branded Nexus 7 tablet, surely there is a case protecting it; sometimes, anyway. Some can prop the tablet, but there's another option. Can a dock improve the user experience and even extend the utility? That's what this quickie review seeks to answer.
The Nexus 7 dock is the official issue, made by ASUS, and sold from Google Play for $29.99. I ordered mine in late January, for $39.99, from B&H Photo, back when only third parties carried the accessory. Since then, the retailer dropped the price by five bucks. B&H took my order when the dock was out of stock, but shipped 8 days later. If you want this thing, don't be deterred by availability elsewhere but forget Google Play, which isn't taking orders as I write. Expect to spend more elsewhere. By the way, I would have waited and paid less, had I known better.
Unlike Nexus 10, Google's smaller tablet is meant to be used more-often in portrait mode (there's a reason why most product shots show the orientation). The dock flips things around, and as such should be seen as entertainment extension, particularly for music and videos -- even displaying photo slideshows. The accessory also makes placing Nexus 7 convenient in a kitchen area for, say, looking at recipes while cooking. There is potentially good utility here, depending on needs.
The dock feels fairly hefty, weighing 280 grams and measuring 220 x 65 x 30 mm. The thing is sturdy, quite solidly-built. There's quality here. The dock comes with standard audio jack and Micro-USB connector and supports the tablet's built-in speakers, which are functional but produce tinny sound. You'll want to plug in your own, which you could do directly without the dock. But, strangely, on my device, there is no through-sound unpowered, which surprises me. I have the Bose Companion 3, which only work when the dock is plugged into electricity.
The tablet snuggly fits horizontally into the dock, but there is too much movement otherwise. Extended lip supports Nexus 7 firmly in the back, but frontways is rocky. You could easily knock over the tablet onto the glass front. Additionally, I find that when touching music controls, the tablet's pins sometimes lose contact with the connectors on the dock. This can interrupt playback or, worse, if charging, stop the activity. I am surprised by how easily even slight jostling of the surface the dock sits on can break the connection and stop charging.
While I use the dock several ways, the most common is work-day companion. I set the peripheral and Nexus 7 behind my computer plugged into power and speakers to play music. I generally stream from my own library stored in the Google Music cloud. On the PC, Chrome sometimes closes down tabs, stopping playback. Nexus 7 is great alternative, providing continuous play, and there is a graphic equalizer.
But I don't need the dock to do this. I can just as easily lay down the tablet, or use a case with built-in prop, connected directly to the speakers. From this perspective, the add-on is more convenience than necessity.
Something else: Google I/O starts in mid-May, and there is massive speculation (and quite reasonable, I should say) across the InterWebs about a new model with higher-resolution display. If ASUS and Google modify the design, the current dock becomes obsolete for use with next-generation Nexus 7. Of course, the enclosure might stay the same, which is better for dock dalliers.
Bottom line: I/O is good reason to wait, and anything over $30 is too much (right, I overpaid). The accessory doesn't add enough value for the price. Nexus 7 already has headphone and power jacks. The case you might already own can prop the tablet.
Don't get me wrong. I personally like the dock and find it both functional and useful. But I don't need it and certainly wouldn't have spent $40 if knowing then what I do now. Nexus 7 dock is great kit, but in many ways redundant.
Photo Credit: Joe Wilcox