How much is too much to pay for coffee with Tim Cook?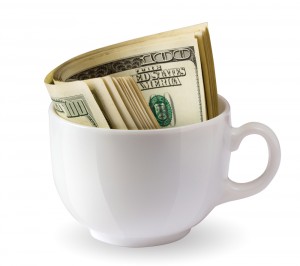 Last week, I scolded colleague Mihaita Bamburic for writing old news -- charity auction for coffee with Apple's CEO. When I saw the item, someone offered $50,000 for 30 minutes with Tim Cook. About 24 hours later, when Mihaita posted: $180,000. Now, after 84 bids and 13 days to go, the number is $600,000. That bid, placed five days ago, looks like as much as anyone will pay.
I know that Apple products are notoriously pricey, but there is something simply unfathomable about paying so much for a cup of brew with Cook. No disrespect to him, but I could see this kind of cash to sit with Steve Jobs, who isn't available for obvious reasons. The winning bid (so far) is worth $20,000 a minute. The cash does go to charity. But really, pay $333.33 per second?
Cook in demand is good public relations for Apple, which needs an image makeover. The Teflon flakes off after all, not a situation imagined a year ago, with the stock reaching for a new high (achieved September, $705.07). But since, every badmouthing sticks to the once resistant surface. The charity thing is good timing. But there's more underway. Cook will appear on stage at this month's D11 conference. Yesterday, Apple announced a $17 billion bond offer, the largest in corporate history.
Apple's recent problems are about perception, not performance, and reflect waning confidence in Cook's leadership. Finally, the company makes real effort to generate some sense that Cook can lead in the wake Jobs left behind. Not that any of this helps the stock, which from Friday's close is up 8 percent in late-day trading today. Hey, every little bit helps.
Regarding the value of Cook's time, if my rough calculations are correct, during calendar first quarter, Apple generated 2,249,053.03 profit every 30 minutes. From that perspective, maybe $600,000 is a bargain. What would you pay for coffee with Cook?
Photo Credit:  Ghenadie/Shutterstock