Process Lasso intelligently manages your system processes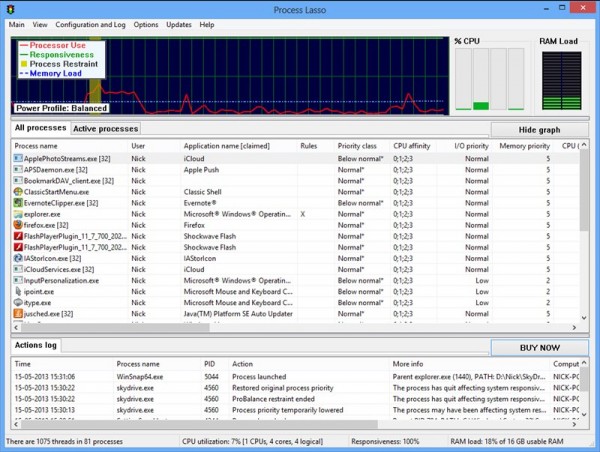 Tennessee software developer Bitsum has released Process Lasso 6.5 and Process Lasso 6.5 (64-bit), a major update of its performance tool for keeping PCs running smoothly by intelligently managing system processes.
Version 6.5 represents a major overhaul for the software, with Bitsum promising that it's been "considerably optimized, profiled, tested and polished". The latest build also features a smattering of new features and improvements.
The overhauled code has resulted in Process Lasso reducing its memory footprint and process utilization even further than before, with the promise of improved performance as a result. Another performance tweak sees logging performance optimized thanks to the introduction of a new "flat file" log format.
This change has been accompanied by new log file rotation, which allows old log files to be archived, improves the "pruning" of existing log files and results in a reduction of the current log's file size, resulting in faster loading when accessed via the program's graphical front end.
One minor GUI tweaks sees a new option added to the View menu allowing users manage the columns shown under the Active Processes tab (users can also right-click the tab itself to select these). The GUI also now shows hard page faults by default, and reports these in the Page Faults column, which now ignores soft page faults.
The update also includes numerous minor tweaks, fixes and changes to the program core as well as the GUI -- a full list can be found in the program's release notes, which also reveal that compatibility with Windows 2000 and XP pre-SP2 machines has been restored in the 32-bit build thanks to a shift to the VC9 platform toolset.
Process Lasso 6.5 and Process Lasso 6.5 (64-bit) are both available as free downloads for PCs running Windows 2000 or later. The program functions in trial version mode for the fully featured Pro version before reverting to a cut-down Free build for personal and non-commercial use.