Microsoft: Blame Google for lack of ads in the Windows Phone 8 YouTube app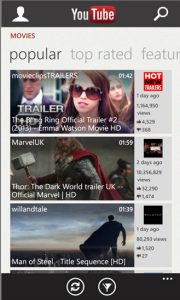 Little over a week ago, Microsoft released a native YouTube app for Windows Phone 8 which replaces the old iteration that displayed a mobile view of the popular video sharing website. The app, however, doesn't show ads, which generate major revenue for parent company Google.
As a result, the search giant is not overly keen about the implementation and sent Microsoft a letter demanding it to remove the YouTube app for Windows Phone 8. The complaints focus on the ability to download content, the lack of ads and the removal of playback restrictions on "certain platforms". I reached out to Microsoft for a comment on Google's claims and here's the software giant's response:
YouTube is consistently one of the top apps downloaded by smartphone users on all platforms, but Google has refused to work with us to develop an app on par with other platforms. Since we updated the YouTube app to ensure our mutual customers a similar YouTube experience, ratings and feedback have been overwhelmingly positive. We'd be more than happy to include advertising but need Google to provide us access to the necessary APIs. In light of Larry Page's comments today calling for more interoperability and less negativity, we look forward to solving this matter together for our mutual customers.
It is worth noting that the YouTube app developed by Microsoft is not the sole offering for Windows Phone 8 which forgoes displaying ads. Metrotube, the highest rated YouTube app in the Store's "music+video" category, also does not show ads and neither do other ones that I have used so far.
A visit to the mobile YouTube website from Internet Explorer for Windows Phone reveals a similar tale. There are no ads displayed anywhere within the browser window. Therefore, isn't Google a bit too overzealous in the case of the YouTube app for Windows Phone 8 (developed by Microsoft)?
The cease and desist letter demands the removal of the YouTube app by May 22 and does not seek any alternative solution. Microsoft appears keen to bury the hatchet, as the company said that it can introduce ads as long as Google does its part of providing access to the "necessary APIs".