Best Windows 8 apps this week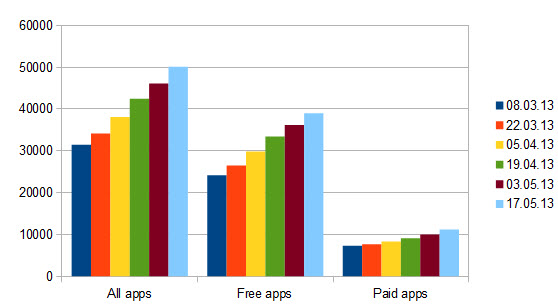 Twenty-ninth in a series. The US Windows 8 apps store crossed the 50,000 apps mark for the first time today; a total of 50,156 apps are listed in the store, with the majority of them free to download and use.
That's an increase of 1,639 apps in the past seven days, a sharp drop over last week's increase of nearly 2400 apps.
Free apps increased by 1206 this week to a total of 38997 and paid apps by 433 to a total of 11159.
Windows Store has still not enough traction to rise above the 2,000 apps per week threshold permanently and it does not look like as if this is going to change anytime soon.
Microsoft published a guide this week explaining how to import iTunes playlists into Xbox Music after the company's chief financial officer confirmed that Apple could not be convinced to bring iTunes to the operating system.
App of the Week
Ecosya is an entertaining puzzle game in which you have to direct a character named Atmos to its flying saucer. You cannot control Atmos directly and need to direct the robot through the level by manipulating the environment instead.
A set of manipulating tools is at your disposal to do just that. You can for instance extend  a block of land, destroy land, or use a lift like block to move up to a higher level.
The first twenty or so levels act as an introduction that you can play through rather quickly. You are introduced to some of the tools that you have at your disposal and basic game mechanics. If you have played a game like this before, you should not have any problems going through them.
The difficulty level increases slowly but steadily as levels grow bigger and the number of tools increase.
Not all levels of the game are playable right now. Once you have finished the first 25 or so, you receive a notice that informs you that a full version is coming soon. It will feature an editor that you can use to create your own levels.
It is not clear if the full game will be available for free as well or if you have to pay to unlock it.
Other Apps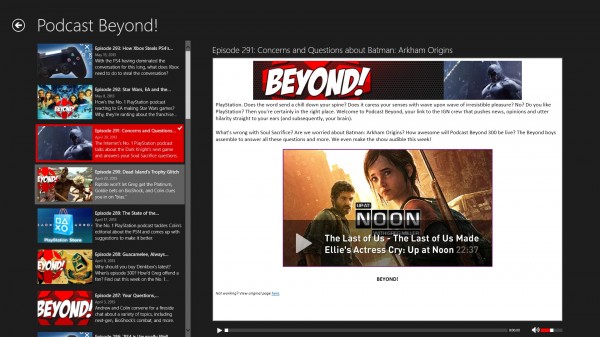 Podcast Beyond! is a weekly show by IGN's Playstation team covering all things Sony. It is a free podcast that is released once a week on the IGN website and other directories including iTunes.
The player brings the podcast as an app to Windows 8 so that you can listen to the latest episodes right from within the Windows app.
Only the last 30 or so episodes are available in the app though so that you do need to find another source if you want to listen to past episodes not listed by the app.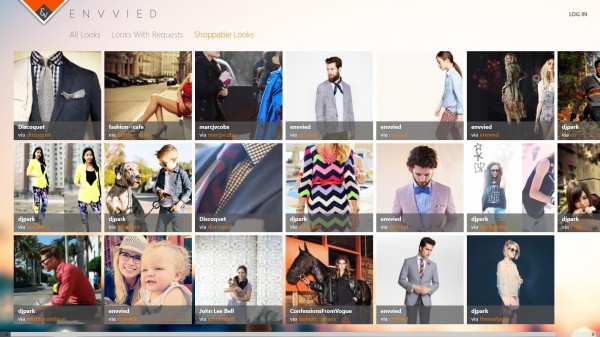 The official Envvied app brings the functionality of the website to Windows 8. The community aims to link looks found on photos to shopping sites where those items can be purchased.
The app displays a  large list of looks right on its frontpage that you can go through. You can then tap or click on a look that you are interested in to find out more about it.
This usually includes a larger photo of it as well as a selection of numbers that you can click on to find out where to buy a particular item.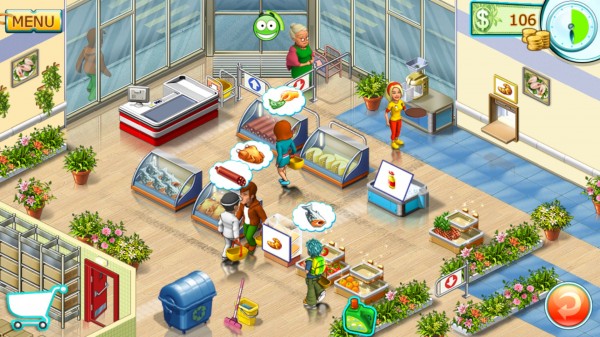 If you ever wanted to manage a supermarket now is your time to do exactly that. The game is not as complex as those tycoon games that you can play on your desktop, but it makes up for that in speed.
You are walked through a tutorial at first that introduces key concepts like restocking shelves, mopping the floor or making sure fresh coffee is always available.
You can buy upgrades to increase shelve space and also one-time aids like cookies to keep customers happy. Customers grow unhappy quickly if they can't pick up the items that they want at that moment in time, or if they have to wait too long to checkout.
The free version of the game is unfortunately short. You can only play through the first ten levels of the game. While that is still great fun, it is not really a free game but a trial version because of this.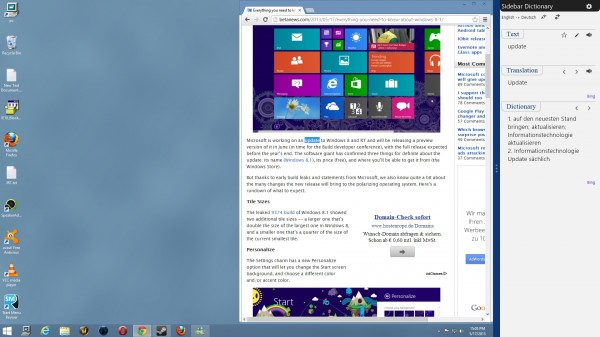 This dictionary app has been designed specifically for Windows 8's snap to sidebar feature. While you can use it full screen as well, it plays out its real strength when you pin it to the left or right sidebar instead.
This can be useful when you are writing emails, editing text documents or pursuing other activities where access to a dictionary may come in handy in.
The sidebar is visible both on the start screen and the desktop. To get started, copy any text to the clipboard or enter text directly into the dictionary's interface.
It can not only look up words or phrases in dictionaries, but also translate them into a language of your choice.
The free version is ad supported and online only. A pro version is available that removes the ads and introduces offline access as well.
First Words with Phonics ($2.49)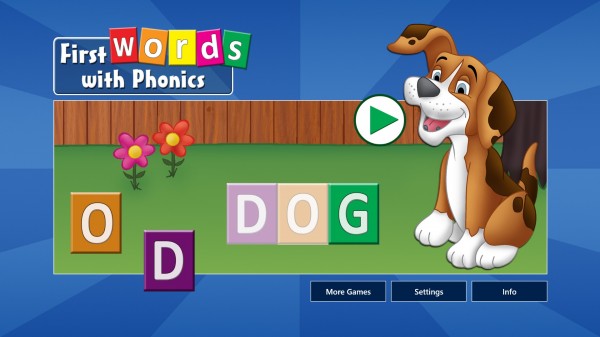 This is a direct port of the Windows Phone app of the same name. It is a teaching application that aims to help children learn letters, their sounds and words.
The app visualizes words with images and sounds. If you take the word cow as an example. The app displays the cow on the screen along with the three letters COW in random order on the screen, and ordered at the bottom.
You can tap or click on the cow to listen to what it is (a cow) and also hear what sounds it makes. A tap on a letter pronounces it right away, and when the full word has been set up correctly, it too is pronounced by the app.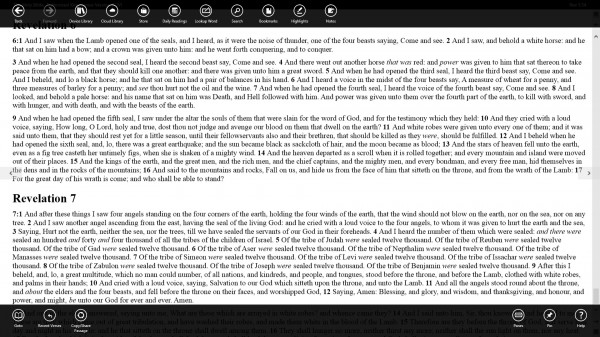 The app provides you with access to the King James version of the bible and a selection of tools to help you in your studies. Not all tools are available without registration though (which is free).
What you can do without registration is to read and search the bible without Internet connection, and add bookmarks that you can jump to in the future.
Additional options become available when you register an account. You can download dictionaries, commentaries, devotionals and other bible versions that you can use in your studies.
A store is available as well that you can buy additional books from and upgrade the program to the advanced version. This advanced version enables the notes and highlight feature in the application.