Box takes more strides towards IT acceptance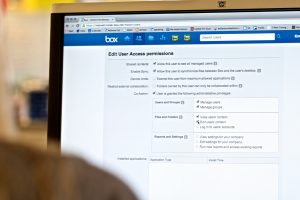 The cloud has become a battleground these days between heavyweight companies, and Box has remained in the fight. Today the company takes another step towards securing its location in the corporate future with three new features in the Box admin console designed to make the service easier to deploy.
An improved content manager, granular co-admin permission options, and the ability to prevent users from permanently deleting content are all heading the way of IT administrators.
According to Box's Annie Pearl, "we're continuing this momentum today with three powerful new features that make managing a complex, enterprise-wide deployment dead simple".
Content manager is an optional tab contained in the admin console and available exclusively only to those in the beta program. This helps admins view the content each user has access to and also search for specific files and folders. The Quick Note feature is not yet available, but Box promises that if you contact the company, it can be enabled for testing.
Finally, Box also releases tools for fine-tuning permissions and the ability to prevent users from permanently deleting items they've moved to the trash.
Box is hoping that these three tools will help customers get past the complexity of managing content, users and roles in today's highly connected organizations. It also, of course, hopes this keeps the cloud service in the race with rivals like Dropbox, which announced Single Sign-on yesterday, and other competitors such as Google, Amazon, and Microsoft.