Internet Explorer uses its ongoing Vine series to tease future WebGL support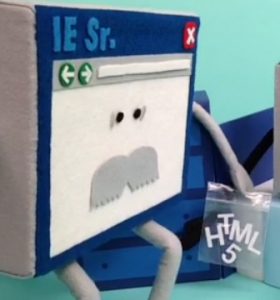 The leaked builds of Windows 8.1 provided a pretty strong clue that Microsoft intends to support WebGL in Internet Explorer 11, but so far the software giant has stayed silent on such matters.
However, a new Vine clip -- part of an on-going series titled "Not your Father's Browser" -- drops a pretty big hint that WebGL (Web Graphics Library) support is definitely on its way.
The series follows the relationship between the old Internet Explorer, and his son, the modern version of the browser. Given the apparent age gap between them, it's clear old IE has lived a hard life.
In the latest vine, episode 9, IE Sr. holds up a plastic bag containing the letters H, T, M, L and the number 5, like it's a drugs stash, and says "HTML5? What's next WebGL?" and both browsers slowly turn to look at the camera. Cute. (You'll want to turn on the sound to follow what's going on.)
You can catch up on the full series at Internet Explorer's Twitter account.