Everything you need to know about Windows 8.1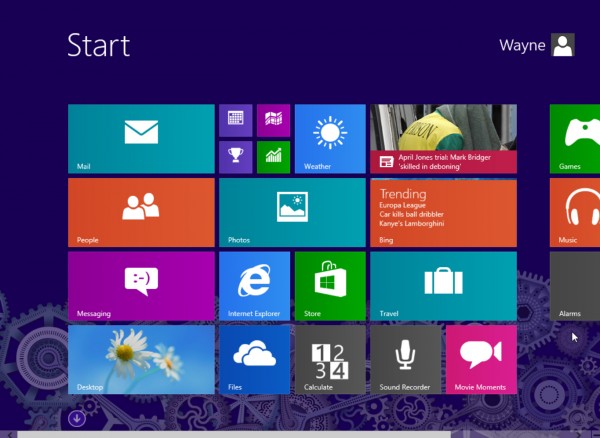 Microsoft is working on an update to Windows 8 and RT and will be releasing a preview version of it in June (in time for the Build developer conference), with the full release expected before the year's end. The software giant has confirmed three things for definite about the update: its name (Windows 8.1), its price (free), and where you'll be able to get it from (the Windows Store).
But thanks to early build leaks and statements from Microsoft, we also know quite a bit about the many changes the new release will bring to the polarizing operating system. Here's a rundown of what to expect.
Tile Sizes
The leaked 9374 build of Windows 8.1 showed two additional tile sizes -- a larger one that's double the size of the largest one in Windows 8, and a smaller one that's a quarter of the size of the current smallest tile.
Personalize
The Settings charm has a new Personalize option that will let you change the Start screen background, and choose a different color and/or accent color.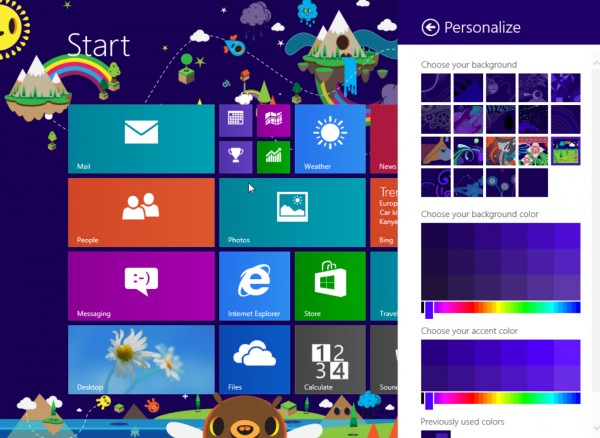 Split-screen apps
Windows 8.1 will improve multi-tasking by letting you run two apps side by side, with each app taking up one half of the screen. If you have a large high-resolution display you'll also be able to run three or four apps on screen.
Swipe Up
Swiping upwards on the Start screen will reveal your apps list, and you'll be able to sort the apps by Name or Date Installed. A handy addition.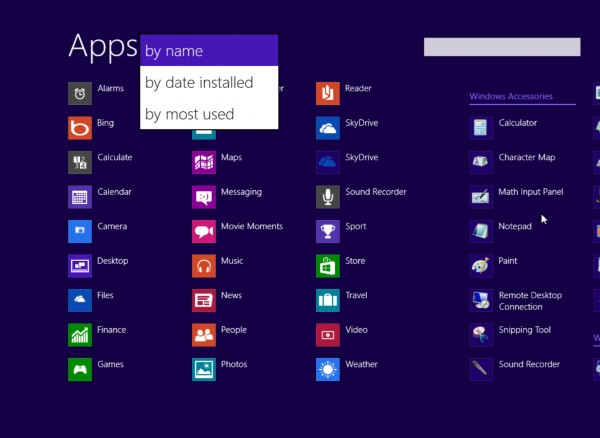 Internet Explorer 11
Microsoft's browser is being updated and will include Do Not Track protection, upgraded developer tools, and will probably support WebGL and SPDY. The Modern UI version will have an integrated download manager.
Support For Smaller Screen Sizes
Microsoft reportedly believes there's a demand for iPad Mini-sized tablets running Windows and so has been working to make sure Windows 8.1 displays well on smaller screens.
Automatic Desktop Scaling
The Windows 8 desktop display scaling issue should be fixed in 8.1, with the update offering auto scaling based on screen size and pixel density. A slider will let you adjust things to suit your tastes (and eyesight). You will of course still be able to adjust things manually.
Assigned Access
The leaked 9374 build included a Kiosk Mode that lets you lock down Windows to a single app -- making it useful for Media Centers, or for showing a particular app in a public place. In the most recent leak, 9385, the Kiosk feature was renamed Assigned Access.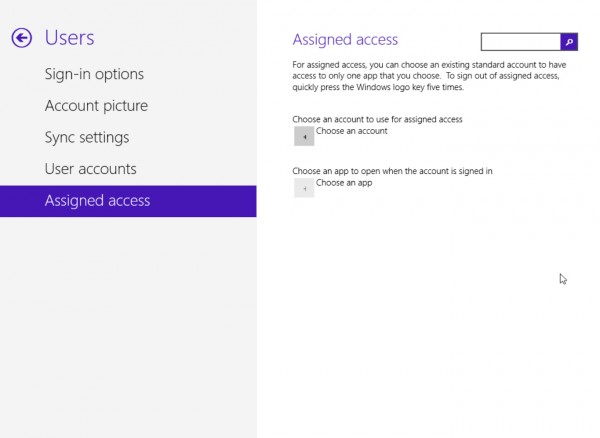 SkyDrive
The leaked builds show SkyDrive as a more integrated option and suggest you'll be able to back up your PC data to the cloud.
Lock Screen
Windows 8 can display status and notification information on the lock screen. Windows 8.1 adds the ability to add an alarm. It also lets you use the lock screen as a picture frame.
New Apps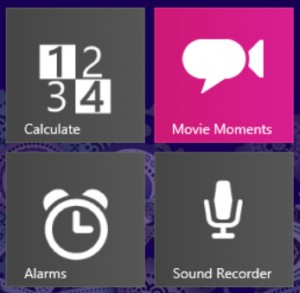 The update will include some new and improved apps, such as Alarms, Calculate, Sound Recorder, and Movie Moments (this last one lets you trim a scene from a video, add captions, and share it with friends). Leaked build 9385 also revealed the Camera app is being worked on with quite a few changes, including a new panorama feature that looks like Photosynth.
New Drivers
Because what would a system pack update be without lots more of these?
Improved Touch
Touch will still be the primary focus in Windows 8.1, so expect lots of refinements here.
A Start Button
Microsoft hasn't yet confirmed the return of the Start button in Windows 8.1 and there's been no sign of it in any of the leaked builds. There have been lots of rumors about it though, with some people claiming it will be a traditional Start button with a Start menu, and others just that it will be there purely to open the Start screen.
In an interview with The Verge last week, Tami Reller, Windows division CFO, admitted Microsoft was aware of the outcry for a Start button. "We have heard that, we definitely have heard that and taken that into account," she said, before adding: "We've really also tried to understand what people are really asking for when they're asking for that".
Oh dear. Has Microsoft really not grasped what people have been requesting since before Windows 8 even launched? A Start button, Tami, with a Start menu attached.
Boot To Desktop
Again, we don't know for certain if this option will make an appearance in 8.1, but the ability to skip the Modern UI screen is a request Microsoft is more than aware of.
Windows 8.1 – A Work In Progress
At the end of last week, Frank Shaw, Microsoft's Vice President of Corporate Communications said:
Unlike a can of soda, a computer operating system offers different experiences to different customers to meet different needs, while still moving the entire industry toward an exciting future of touch, mobility, and seamless, cross-device experiences.

We are going to keep improving Windows 8, as we do with all our products, making what's good even better. There will be new devices, new use cases, new data that makes us think, "Hey, we should do more of this, or less of that". And we will. There will be people who agree, strongly. There will be those who disagree, equally strongly. All good, all expected.
With his reference to a "can of soda" Shaw is of course alluding to the New Coke comparison that a lot of people have made about Microsoft's new operating system.
It's clear from what Shaw and Reller have both said that Windows 8.1 won't be the full back down that a lot of people have been hoping for. Rather it will serve to refine and improve the Windows 8 experience to make the OS more palatable and easier to use, as well as introducing some appealing new features.
Will it go far enough to persuade the doubters to make the switch from Windows 7 (or earlier)? We'll just have to wait and see. As always leave your thoughts and comments below.