Remotely access your PC with Splashtop 2 for Windows Phone 8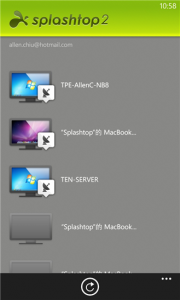 Remote control apps are increasingly versatile, allowing smartphone and tablet users to access and manage computers from the workplace, a holiday resort or the couch in my case. For Windows Phone 8 users the most popular choice is PC Remote but, late-yesterday, another app hit the Store.
"Many Windows Phone users have asked for Splashtop", says Splashtop CEO Mark Lee. "We are excited to partner with Nokia and Microsoft to optimize and deliver the best-in-class Splashtop experience for Windows Phone 8". The app allows folks to remotely access Linux, OS X and Windows-based computers straight from the tiled operating system. Let's take a look at the features.
With Splashtop 2 for Windows Phone 8 users can remotely access and edit files, open applications (and play games), watch videos, stream music, move the mouse cursor and control various functions of the operating system. For instance, accessing a Windows 8 PC gives users the ability to trigger the Charms and Start menus or switch between multiple monitors.
The app, unlike PC Remote, automatically matches the resolution of the Windows Phone 8 device to the connected computer screens. That's a tad annoying as the former is restricted to 1280 by 768 whereas even basic laptops come with larger resolution displays (like 1366 by 768, 1600 by 900 or 1920 by 1080).
Splashtop 2 requires users to install a server application on computers (multiple ones can be controlled) and log in with a Splashtop account on each device. The latter makes the app easy to use in different scenarios, as folks no longer have to know and type in IP addresses and ports in order to enable a connection.
Splashtop 2, "in coordination with Nokia and Microsoft", is free for Windows Phone 8 users until August 31. There is no word on pricing afterwards.
Splashtop 2 is available to download from the Windows Phone Store.