Kingsoft Office 2013 Free revamps interface, improves support for new Office formats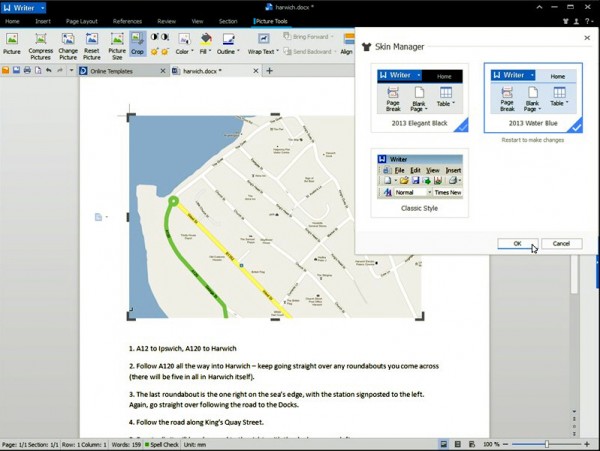 Hong Kong-based developer Kingsoft Software has released KingSoft Office Suite Free 2013, a brand new version of its sleek free alternative to Microsoft Office. Version 9.1.0.4056 makes its bow with a redesigned user interface with choice of three skins, plus improves support for the latest Office formats. There's better support for foreign characters as well as date and number formats too, while users can now undo changes even after saving documents.
The suite consists of three tools -- Writer, Spreadsheets and Presentation -- all of which gain specific new features and improvements. All three sport a ribbon-based user interface with one key advantage over Office's own: the ability to view and switch between multiple documents in a single tabbed window.
The 2013 build opens with a choice of two new interface styles, both based on the ribbon UI introduced in Kingsoft Office 2012 and sporting a look designed to appeal to fans of Windows 8′s new Modern UI. Users can now easily switch between these two styles -- 2013 Elegant Black and 2013 Water Blue -- as well as a traditional Classic interface that eschews the ribbon in favor of traditional menus and toolbars -- from within the main program itself. Note users can access the menu via the [Alt] key when using either of the 2013 skins.
Other suite-wide new features include widened support for date and number formats across Europe, the US, UK, Australia, Canada and New Zealand, along with the ability to now insert both Euro and British pound (sterling) symbols directly using the keyboard. Foreign characters can now also be directly entered using the keyboard thanks to added support for the [Alt Gr] key.
Users now also benefit from being able to undo actions even after saving documents, plus can now create new documents from other templates. All three apps also gain a number of optimizations, chief of which are improved support for the newer PowerPoint and Excel (.pptx, .xlsx) formats.
Kingsoft Writer gains support for the line numbers function as well as showing footnote/endnote separator functions. Users are now also able to specify when choosing to embed TrueType fonts in documents that only specific characters used in the actual document are embedded in order to keep the file size down. Also added is an option for remembering the dimensions of new tables.
Kingsoft Spreadsheets expands its maximum worksheet size to 1,048,576 rows by 16,384 columns, plus adds support for the goal seek function as well as 37 other new functions, including financial and statistical. Multiple filter support has also been enabled, while users can now locate visible cells via the [Alt] + [;] keyboard shortcut. Options for quickly switching view have also been added to the status bar, while users can now create new sheets and change the font size from within a worksheet tab.
Kingsoft Presentation now supports the creation and deletion of comments within a presentation, plus extends the organization chart function within the new 2013 user interfaces. Users can now save the background picture within slides, replace fonts and package files to folders along with compressing files to save space. Finally, the show/hide notes feature can now be toggled from the status bar.
Kingsoft Office Suite Free 2013 is available now as a free-for-personal use download. Also available for $69.95 is Kingsoft Office Suite Pro 2013, offering additional functionality including VBA macro support as well as a commercial-friendly license.