Enterprises warned BYOD is here to stay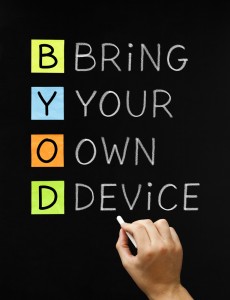 Global industry analyst Ovum has revealed the results of its 2013 BYOX (Bring Your Own Anything) employee survey which reveals that 70 percent of employees use their own devices to access corporate data.
Launching the research at the start of the BYOX World Forum today in London, Ovum revealed that BYOD shows no signs of going away. More to the point it will continue whether the IT department wants it to or not. The study shows that 67.8 percent of smartphone-owning employees bring their own smartphone to work, and 15.4 percent of these do so without the IT department's knowledge, with 20.9 percent of corporate rebels doing so in spite of an anti-BYOD policy.
"Trying to stand in the path of consumerized mobility is likely to be a damaging and futile exercise," says Richard Absalom, consumer impact technology analyst at Ovum. "We believe businesses are better served by exploiting this behavior to increase employee engagement and productivity, and promote the benefits of enterprise mobility".
The research also highlights a trend towards bringing your own application (BYOA -- no prizes for how many other BYO variants you can come up with!). The use of cloud productivity apps, such as enterprise social networking, file syncing and sharing and IM/VoIP, is growing fast. Worryingly, Ovum found that these types of apps are increasingly being sourced by employees themselves and not being managed via corporate channels. The report finds 25.6 percent of employees discovered their own enterprise social networking apps, while 22.1 percent discovered their own file sync and share apps, and 30.7 percent of employees their own IM/VoIP apps.
Absalom comments, "If employees are sourcing their own applications to do their job, then IT is not delivering the right tools or a good enough user experience for its employees."
The key message is that businesses need to adapt and take onboard the BYOD trend or risk being overtaken by it.
Photo credit: Ivelin Radkov/Shutterstock