Xbox One buyers beware -- Microsoft is holding your money hostage [updated]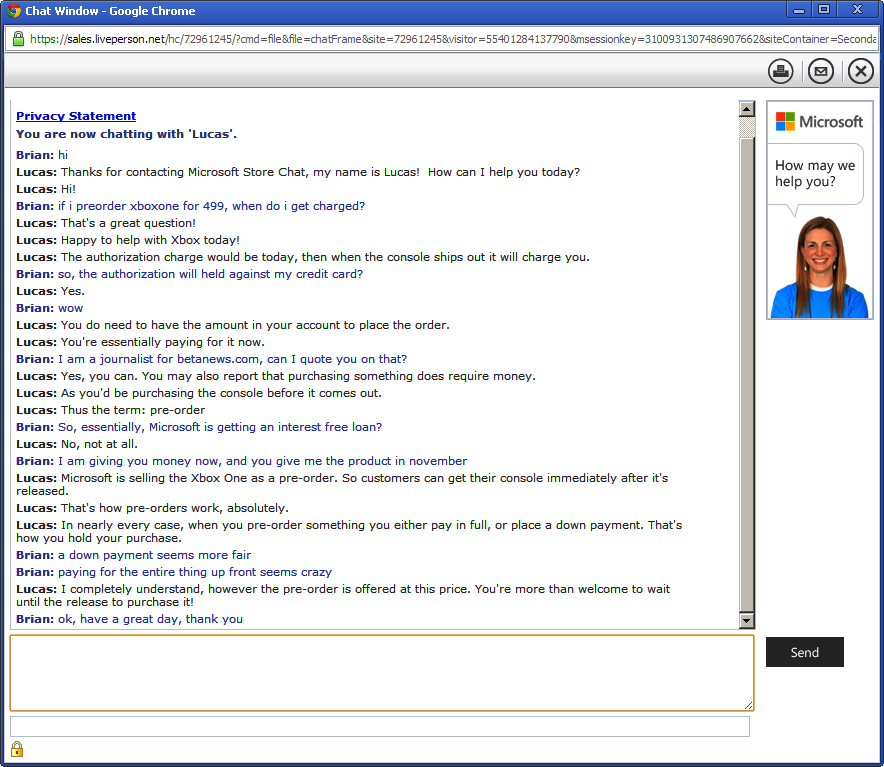 Yesterday, my colleague Alan Buckingham reported on the Xbox One availability and pricing. I wasn't sure if I wanted one but I thought it would be a good idea to pre-order. I have failed to pre-order consoles in the past with devastating results. Many Christmas holidays were ruined by the failure to secure the newest console (I know -- first world problems). And so, I decided to pre-order the Xbox One -- just in case.
I headed to the online Microsoft Store, with debit card in hand. I went to the pre-order page and started the process. I was shocked to find that Microsoft wanted me to pay the full $500 (plus tax) up front! Keep in mind, this console will not launch until November. Paying full price now, in June, is ludicrous. In the past, I had pre-ordered consoles by putting down a small deposit.
Upset, I decided to contact Microsoft by chat. I explained my concerns to a representative named Lucas. He told me that Microsoft would only authorize the funds on my debit card now and take the money later.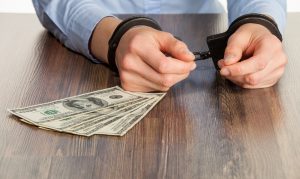 Unfortunately, this means $500+ dollars would be frozen in my checking account until November. I was very distraught over this information. I asked the representative if I could quote him for BetaNews. He told me that I could. However, he then rudely told me "You can also report that purchasing something does require money". Shortly later, I told him to have a great day and ended the chat.
I have decided not to pre-order the Xbox One. Not only because of the rude representative, but because I do not want my money held hostage for 5 months. Microsoft needs to rethink this policy.
Update: Microsoft reached out to me on the evening of 6/11/2013. As per Microsoft, the representative in the above screenshot ("Lucas") gave misinformation regarding the pre-order process. Microsoft claims it will only authorize between $1.00 and $2.00 to validate the card -- not the full amount. It further claims that the customer will not be charged the full amount until the product ships.
However, as per the below screenshots, there is no way for the customer to know this. Neither the final check out page nor the terms and conditions make mention of how much will be authorized at the check-out stage. Unfortunately, there is no way for BetaNews to independently verify without actually ordering the console -- something that this reporter is not interested in doing.
Have you pre-ordered the Xbox One from the online Microsoft Store? How much were you charged? Tell me in the comments.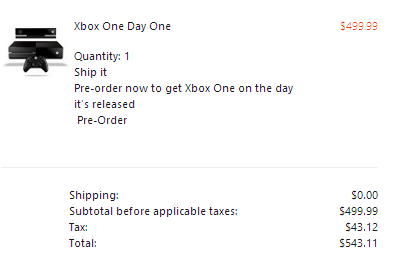 Photo Credit: Maryna Pleshkun/Shutterstock