Microsoft sets up shop in your local Best Buy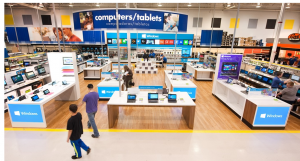 Microsoft continues its battle for your retail dollars. Not only has the company set up  store fronts in malls around the country, as well as pop-up locations during this past holiday season, but now seeks other outlets. The software giant is invading your local big box store, announcing custom stores within Best Buy.
The company's Brandon LeBlanc lets us know, "today, we announce a strategic partnership to create the Windows Store only at Best Buy, a comprehensive store-within-a-store in 500 Best Buy locations across the United States and more than 100 Best Buy and Future Shop locations in Canada".
Plans include stores that will range in size from 1,500 square feet to 2,200 square feet and will be the latest destination for consumers to see, try, compare and purchase a range of products and accessories. This will include Windows tablets and PCs, Windows Phones, Microsoft Office, Xbox and more.
The launch comes in plenty of time for the new Windows 8.1 and Xbox One, and Microsoft has other full blown stores in the works as well.