Find out how safe your PC is with OPSWAT Security Score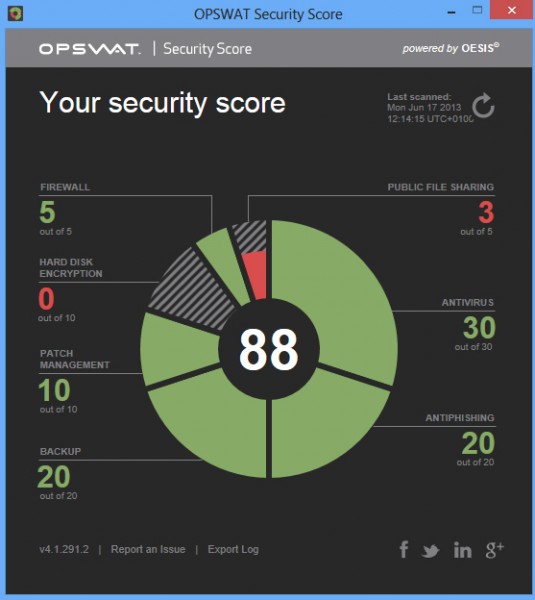 OPSWAT has released the final version of its free Security Score product, a simple tool which scans your PC, reports on any security issues it finds, and provides basic advice on how to resolve them.
The program is exceptionally easy to use. There's no complex interface to figure out, no settings to consider, almost nothing to do at all: just launch Security Score, it scans your PC, and returns with the details in just a few seconds.
The final report is almost as simple. You'll get an overall score out of 100, as well as seeing individual scores for seven key areas: Antivirus, Antiphishing, Backup, Patch Management, Encryption, Firewall and File Sharing.
Our test PC scored 88/100, for instance: not bad. But if you'd like to know how to improve things still further, then clicking an area where you haven't scored full marks will explain the program's reasons, and offer some advice.
We only scored 3/5 for Public File Sharing, for example: why? A click told us that OPSWAT Security Score had detected a uTorrent installation, file sharing increased the risk of malware infections, and so the program was recommending we remove this. (Although whether you do so is your call, of course.)
We scored a miserable 0/10 for Hard Disk Encryption, too, which turned out to be because we weren't using BitLocker or anything similar.
OPSWAT Security Score isn't doing anything too special or smart, then. Experienced users will probably find the program doesn't tell them anything they don't know already. And PC novices might wish it told them more (BitLocker isn't the only way to encrypt a hard drive, for instance, but the program won't point you at any alternatives).
Still, the program does provide a simple way to check other people's systems -- making sure that a laptop used by your kids is properly configured, for instance -- and that's probably enough to justify the download.