Microsoft beefs up Windows Phone speech recognition -- twice as fast, more accurate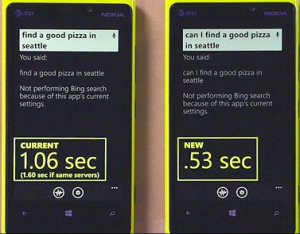 Despite its limitations, the Windows Phone voice assistant has at least one good thing going for it. The speech recognition service quickly understands words, sentences and commands, with answers to questions like "What is the weather in New York" popping up in a matter of seconds.
Microsoft still hasn't tackled the feature set but, today, the software giant announced that the Windows Phone voice assistant is now even "more accurate and twice as fast". According to the Bing Speech Team, DNNs (Deep Neural Networks) fuel the under-the-hood improvements, which have quietly rolled out over the past couple of weeks.
As the name might imply, a DNN draws inspiration from the way neurons work, relying on patterns to carry out new tasks. This technology could also make its way into other apps, like Bing Translator although, according to Microsoft, it could take a while before it is ready for prime time.
The Windows Phone speech recognition service should also perform better under noisy conditions, like during a concert or inside a crowded bar (I have yet to put that claim to the test).