Speccy update adds a temperature monitor to the System Tray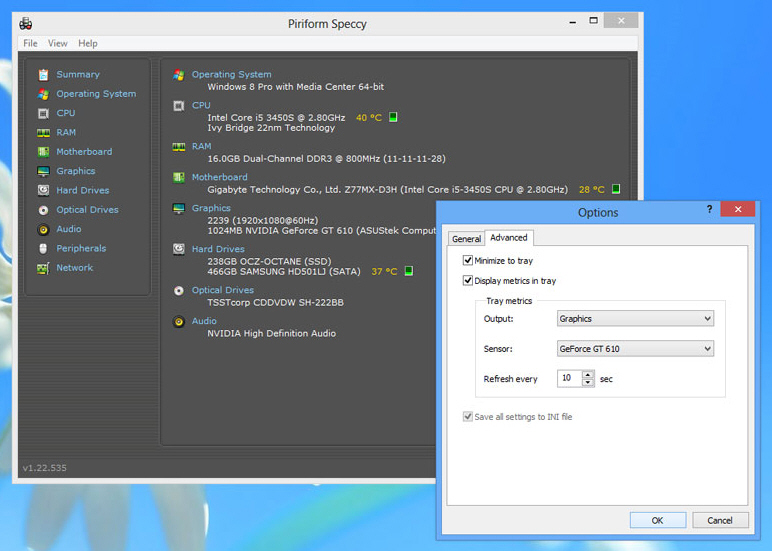 Piriform has released Speccy 1.22, a minor update to its free Windows system information tool. Despite the minor version number, version 1.22 contains a number of notable changes and improvements.
Speccy 1.22 -- also available as a standalone portable build -- opens with support for adding the temperature sensor output to the program's Taskbar Notification Area icon.
Users switch this feature on by choosing View > Options > Advanced tab and ticking Minimize to tray and Display metrics in tray. Once enabled, users have a choice of which temperature sensor to display from a choice of CPU, motherboard, graphics card or hard drive. Once set, the temperature monitor can be switched from the program's Taskbar Notification area icon, simply by right-clicking and choosing Tray metrics to select an alternative sensor.
The new build also adds Read and Write Capabilities to the Optical Drives section of the program, allowing users to see what types of disc are supported. Also added to the Graphics section is the graphics card's manufacturer and model information, plus each network adapter's MAC address to the Network section.
Speccy 1.22 also adds support for the latest Intel and AMD processors, improves the Computer Type detection for virtual machines and promises better usage of CPU and memory for slightly improved performance. The update is rounded off with the usual collection of unspecified minor bug fixes and GUI improvements.
Speccy 1.22.535 and Speccy Portable 1.22.535 are both available as free-for-personal-use downloads for PCs running Windows XP or later. Commercial licenses are available, with prices starting from $19.95 for the Professional version.