Dolphin browser for Android gets Flash, redesigned interface, new features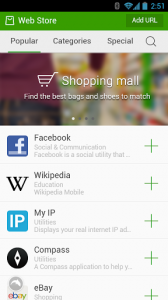 Late-yesterday, after reaching 80 million app installs, popular Android browser Dolphin received a significant update which, among the most noteworthy improvements, introduces a new UI (User Interface), a web app store and (re-adds) support for Flash content.
To take advantage of Flash content, Dolphin users have to install the Adobe Flash Player app and enable the feature from the settings menu. The browser now also comes with improved search support, touted as both faster and smarter, with queries directly turning up results on Amazon, Facebook, Twitter, Wikipedia or YouTube.
Users can choose between five dedicated search engines -- Bing, DuckDuckGo, Google, Yandex and Yahoo.
The Dolphin web app store features in excess of 200 offerings, including Amazon, Facebook, Twitter and Wikipedia. Folks can add web apps as well as favorite sites to the redesigned homescreen.
The browser now comes with gesture support -- users can swipe to access the Gesture/Sonar, the list of opened tabs or the menu. The latest Dolphin iteration also updates the themes and night mode to version 10.
Dolphin is available to download from Google Play.