A unicorn named Ouya knocks on my door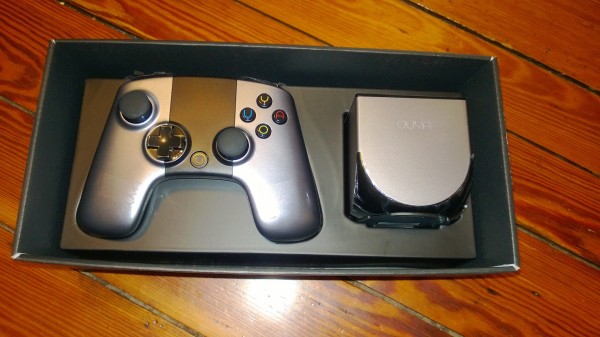 Hope is not yet lost. Though I pre-ordered, and paid, on day one, my Ouya console languished in Never-Never Land, perhaps cavorting with its brethren, the Lost Boys. This was a point of pain for more than just me, as other early backers of the little Android game box also failed to receive promised deliveries, despite the console becoming available in the local big-box store.
The anticipation, and mounting frustration, came to a close as my console came knocking on my door in the guise of a delivery man. It is here and sitting in my living room, still housed in its cozy little box, though that will be changing when I get a few spare minutes later today. At that point the review begins, and I will give it a few days before taking to this mini-series again to give impressions -- fairness is in order for any bit of technology and judgement should not be rushed, despite frustration caused by overdue deliveries and unkept promises.
I can, however, give you a sense of what is here -- the Ouya is tiny, as you may know -- hell, you probably all had one before me. Still, the box opens to a big, red "Thank you for believing" sign which hides the console and controller.
As for the tiny Ouya shell, it comes with Ethernet, HDMI and USB ports on the back. The controller is rather non-descript, with little to set it apart from other consoles' accessories.
The Android game box will be installed shortly, and will be prompting for firmware updates, but hopefully all will go smoothly. Tune in as there's more coming very soon. Oh, and, cross your fingers and wish me luck. You never know...