Emsisoft Anti-Malware 8.0 improves cleaning, reduces memory usage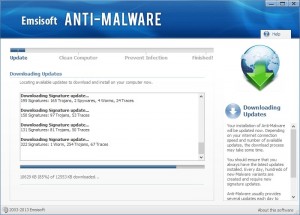 Emsisoft of Thalgau, Austria, released Emsisoft Anti-Malware 8.0, a major new version of its dual-engine protection tool for Windows. It is designed to run alongside existing security products and offer extra lines of defences against malware.
Version 8.0, which uses BitDefender's scanning engine alongside Emsisoft's own, promises to cut memory usage for faster, leaner performance, improved malware cleaning, user-interface tweaks and more.
The headline new feature is the reduced memory usage -- by performing a major signature database cleanup and reorganization, Emsisoft claims to have reduced update traffic and cut memory consumption by around 80 MB in total.
Update performance is also improved with support for parallel downloads to maximize available bandwidth, an optimized adjacent routine that cuts the average processing time to under three seconds, and an expanded network of distribution servers.
The new release also comes with the promise of a "greatly improved" malware cleaning engine that promises safer and more thorough removal of infections. The update also offers dozens of minor user-interface tweaks based on feedback from customers, and is rounded off with the usual selection of unspecified stability and compatibility fixes.
Emsisoft Anti-Malware 8.0 is available now as a free trial download for PCs running Windows XP or later. Users can purchase a single year's protection for one PC for just $15.95 from the Downloadcrew Software Store, a saving of 60 percent on the MSRP. A three-PC annual subscription is also available for just $19.95, saving 71 percent on the MSRP.
Finally, a three-PC, single year's subscription to Emsisoft Internet Security Pack, comprising Emsisoft Anti-Malware 8.0 and Emsisoft Online Armor 6 Premium firewall, costs just $29.95, saving you 67 percent on the MSRP.