Bitdefender Total Security 2014 review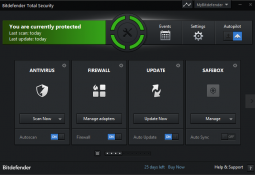 When you buy a program with "Total" in the name then you probably expect a very complete feature list, and Bitdefender Total Security 2014 certainly does not disappoint in this regard: the suite offers antivirus, firewall, anti-spam, browsing and social networking protection, privacy tools, parental controls, online storage, anti-theft service, PC tuneup module and more.
And although some people prefer to ignore the frills and assess security packages on their core essentials, Bitdefender does just as well here. An AV-TEST report on Bitdefender Internet Security 2013, for instance, shows it detecting 100% of the test malware samples -- this program is strong on the basics, too.
Better still, the latest edition further benefits from a new performance technology, a capable password manager, improved reporting, more accurate spam detection, and more.
Getting started with the suite is easy. The compact setup program (5.4 MB) checks the PC for incompatible security programs (you have to remove these, there is no "install anyway" option), then performs a scan, downloads and installs various suite components, all in parallel.
Once setup is complete, a largely unchanged interface makes Total Security 2014 easy to navigate. Individual panels give quick access to key areas (Antivirus, Firewall, Update and more); these can be reorganized to suit your needs, and most of the key settings and options are just a click or two away. Even users who are unfamiliar with the program should be ready to start exploring in just a few minutes.
Antivirus and More
We began by running a full system scan on our test PC. This was a little slower than average at 74 minutes, but detected all the malware samples, and subsequent times fell dramatically to around 13 minutes. Maybe this is due to Bitdefender's new Photon technology, "an innovative antivirus technology that accelerates scanning speed by gradually adapting to your PC", maybe it is not, but we appreciated the improvement.
If that is still too lengthy, you can always try the Quick Scan. This only checks running processes and key system areas, but completed our first scan in 12 seconds, the next one in only two seconds.
A scheduler allows you to run scans automatically, with some limitations. You cannot set up scans to run more often than once a day, for instance, and they can't be triggered by events like logging on or shutting down.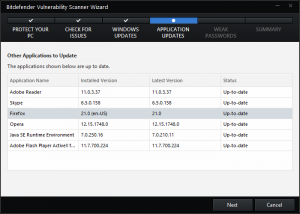 The highlight here would normally be Bitdefender's "Rescue Mode", a Linux-based recovery environment which can be used to restore the PC even if Windows will not boot (with Vista or later). Except we could not get it to start at all. Rescue Mode launched just fine on another system, so perhaps there was some quirk with our test PC
The checkup tools are rounded off by a vulnerability scan which looks for missing updates for Windows and a few key applications (browsers, Adobe Reader, Flash, Java, Skype). It is simple, but works for us.
Total Security 2014 also includes a smart firewall which does an excellent job of protecting from network attacks. It "just works", too, almost never requiring any manual intervention or setup.
A simple spam filter tries to keep the inbox free of junk. Total Security 2014 sees this fully cloud-based, and we found it blocked 91 percent of spam, more than twice as much as the previous edition. It is also more aggressive, falsely flagging 10 percent of our legitimate commercial emails, although a little time spent on training and whitelisting will improve this considerably.
And another significant plus this time is the enhanced parental control system, which now does an even better job of restricting web use and access to content, as well as producing detailed reports on exactly what children are doing online.
Browsing Protection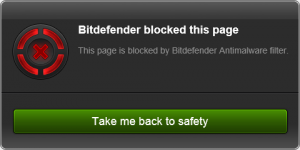 Bitdefender's Total Security 2014 has a particularly strong set of browsing protection tools which aim to keep you well away from a host of online dangers.
Icons are added to your search engine results, for instance, to indicate whether a page is safe or potentially dangerous. If you click a dubious link -- on your Facebook wall, in a browser, email or other document -- then access will be blocked (although you can override this, if you are sure it is safe).
Bitdefender's Safepay allows you to carry out internet banking, shopping and similar sensitive activities in an isolated environment where they cannot be monitored by malware. While it is supposed to launch automatically "when you navigate to an online banking site or online shop in any browser", this did not happen in our case, even on obvious sites like PayPal and Amazon. Still, once launched manually Safepay worked well, bypassing commercial keyloggers and screen grab tools on the test system.
And you also get instant messaging encryption, while a Data Protection feature allows you to define information which you do not want to be used online (names, phone numbers, addresses, credit card numbers and more).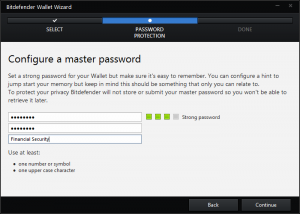 The latest addition to this is the Wallet, a tool for securely storing your website logons, credit card details, network configurations and other sensitive details. Once set up this handles its core web task almost transparently, recording user names and passwords as you enter them, and automatically filling the form whenever you revisit the site -- easy.
The ability to store other information is convenient, too. An "E-mails" tab allows you to store email account user names and passwords, for instance, a simple way to keep them safe from snoopers.
There are also limitations. Wallet cannot generate secure passwords, for instance, and it does not store credentials online; if you want to use them across multiple systems then you need to transport and sync the database manually. The tool is a good first step, though, and a welcome addition to the package.
Premium features
Everything we have discussed so far can be found in Bitdefender Antivirus Plus or Internet Security, but of course Bitdefender Total Security 2014 also has a few extras of its own.
Bitdefender's Anti-Theft service, for instance, provides a way to remotely locate, lock or wipe a missing computer. It does not have quite as many options as some of its competition – you cannot display messages on the device, for instance – but generally it works well.
Bitdefender's Safebox is a secure online storage space which can be accessed via Android and iOS clients as well as your Total Security 2014 installation. In theory it is a simple way to back up, synchronize and share files online, and the 2 GB of free storage space you get is enough to be useful (you can pay to get more, if needed). But unfortunately it never worked for us, displaying a "Waiting for Safebox services to finalize configuration" message whenever we tried to do anything.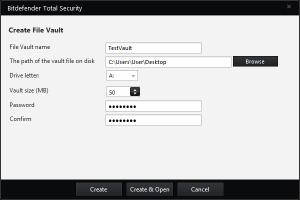 A File Encryption tool allows you to store sensitive files in an encrypted "vault", which is then accessible as a new drive in Explorer. It is effective and easy to use.
And a PC Tuneup module provides very basic tools to delete junk files, clean the Windows Registry, locate duplicate files or defragment the hard drive to optimize performance.
Issues aside, the Bitdefender Total Security 2014 (costs $69.95) core antivirus and browsing protection tools remain strong, performance is good, there are some welcome additions and improvements, and it is all very easy to use. If you are looking for a comprehensive security suite then the package remains an excellent choice.
If you do not need quite such a lengthy feature list, though, it is worth remembering that Bitdefender does provide some alternatives. Bitdefender Antivirus Plus (goes for $39.95) includes the antivirus engine, Safepay, Wallet, browsing and privacy protection. And Bitdefender Internet Security (runs for $49.95) extends this with the firewall, spam filter, parental controls and file shredder. Both are available with 30 day trials.