Faster UK 4G from EE -- nice speed if you can get it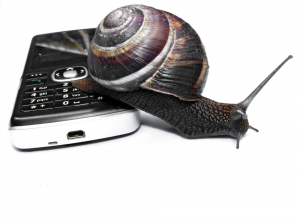 My colleague Mihaita Bamburic reported earlier on EE's rollout of faster 4G LTE services in 12 major UK cities with a potential to double current average internet speeds.
Despite the claims that this would make EE's mobile network unequaled in Europe I can't say I was especially excited by this news. Living as I do within 20 miles of one of those major cities -- Manchester -- it's sometimes hard to get a 3G signal here let alone 4G.
You can argue it's my fault for choosing to live where I do, but that's always the problem with new phone technology. Although EE claimed back in May that it was on target to reach a million 4G customers by the end of the year the reality is that most of those will be in large towns and cities. The rest of us have to wait until the world catches up.
To be fair, 4G is spreading fairly fast, Olaf Swantee, EE's Chief Executive Officer has said that 4G will be available to 98 percent of people in the UK in 2014. Other operators such as O2 have also promised aggressive roll outs which is why EE is keen to grab as many customers as it can now whilst it has a head start. That's "basic" 4G of course, the benefits of the faster services promised by today's announcement will take longer to spread and may not reach some areas at all.
Emeka Obiodu at independent analysts Ovum says, "The doubling of LTE speeds in several cities across the UK is a nice headline. But, on its own, we don't believe it is a standout game changer as telcos struggle to sell LTE as a speedier network. Instead, its merit is that it gives EE a base from which to offer LTE packages tiered on speed and usage which are far more acceptable to customers. That is going to be the interesting thing to watch out for and if its rivals do not have the capability to do that, EE could have quite a solid marketing message."
Obiodu also says, "Fleshing out its shared plans for customers, and positioning it as a way for families to save money, is a canny move in today's austerity-dominated society. The ability to cap costs should appeal to families who will get better clarity on what their telecoms spend will be. We also liked how EE is going to use the shared plans as a nudge to push customers into a higher-priced plan. This is what Verizon Wireless has done successfully in the US and is one reason why their ARPU is rising."
The moral of all this is that if you need fast mobile internet make your home in a big city. The irony being that it's the place where you're least likely to need it as there will be plenty of free Wi-Fi and other ways of getting online. If you want to live elsewhere or you're inclined to move about it probably isn't worth making the leap to 4G just yet.