Redbox Instant takes 'root' on Android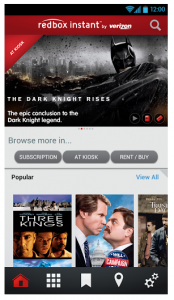 The war for your dollars escalates as more services vie for control of the wallet, enabling customers to watch movies and TV shows without need of running to the local store or kiosk to fill the video habit. Netflix and Amazon compete for the prized crown, but Redbox has launched Instant to get into the market as well. Blockbuster? Bueller? Bueller? Oh, that's right it tried too.
Redbox Instant by Verizon (yes, that is the whole official name) aims to up the ante in this war with its latest Android update. Finally bringing the streaming service to rooted Android devices.
Aside from the handing of rooted devices, which is the big news, this latest version -- 1.2 for those keeping score -- also carries along the usual array of bug fixes.
The app not only allows customers to reserve movies at the familiar red kiosk seen everywhere, but also play instant streaming video right on your smartphone or tablet. You will need to be running Android version 2.3 or newer, and if you have the app then the update should push automatically.
Now the rest is up to you. I can not tell you what to watch, but I would be happy to make recommendations if you should wish.