Thoroughly remove programs -- even in Windows 8 -- with Revo Uninstaller Free 1.95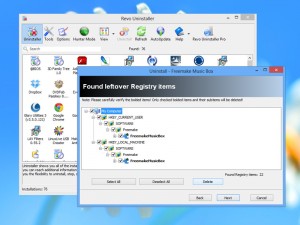 One of the biggest causes of detritus on Windows computers are the files and Registry entries left behind by programs when they are uninstalled. Sure, you can employ the services of cleaning utilities like CCleaner, but the fact you are scanning for "remains" from programs removed weeks or even months ago makes it hard to spot which bits are safe to remove and which ones are not (that can cause problems further down the line).
Far better, then, to remove these leftover elements with a dedicated program, which is where an uninstaller like Revo Uninstaller 1.95 Free and Portable comes in.
The brand new version of Revo Uninstaller Free has one major thing going for it (aside from the usual round of minor bug fixes and language updates), and that is Windows 8 support. Try removing software using the previous variant and it would hang during the scanning process for leftovers, rendering the program useless.
Now, however, Revo Uninstaller Free works correctly with the latest Windows version. The program is simple to use -- select your unwanted software from the list and click the Uninstall button, pressing on Yes when prompted. Leave Moderate selected, then click Next. Windows will take a fail-safe System Restore point (advanced users can switch this off, plus tweak other settings via the Options button), then let the program's uninstaller remove normally itself.
Once complete -- do not reboot if prompted -- click Next to let Revo Uninstaller scan for leftover Registry entries. Review them all before ticking each one or clicking Select All and pressing on Delete followed by Yes.
Click Next again, and Revo will show the found leftover files. Again, review the list before choosing Select All or individual entries and clicking Delete then Yes to move these files to the Recycle Bin. Click Next followed by Finish to move on to the next program or reboot if prompted. Result -- one properly cleaned up PC.
Revo Uninstaller 1.95 Free and Portable are both offered as freeware downloads, while a more fully featured version -- Revo Uninstaller 3.0.5 Pro -- is also available as a fully functional 30-day trial. Additional features in the paid version, which costs $35.25, include forced uninstall of partially removed apps, real-time monitoring of system changes and the ability to uninstall multiple apps at once.