Vet social networking app privacy settings with MyPermissions Cleaner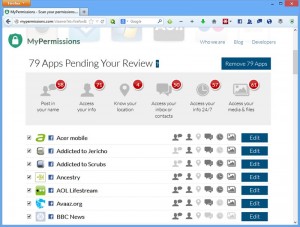 With privacy higher than ever on the news agenda, it is not surprising people are starting to wake up to the fact they have happily allowed all kinds of personal information about themselves to appear online. It might be too late to stem the tide, but if you are thinking about reviewing your personal privacy, one place to start might be with the apps added to various social networks.
If this idea appeals, then desktop users should install one of MyPermissions Cleaner for Chrome, Firefox, Internet Explorer and Safari, while iPhone and Android users can go with Online Privacy Shield -- once done, you are ready to start taking action to tighten privacy settings.
The process for using MyPermissions varies slightly, along with the number of supported services, depending on whether you are accessing it through the Cleaner browser plug-in or the mobile app.
Now, the browser plug-in supports a wider range of services, including Windows Live and AOL in addition to the services supported on mobile -- Facebook, Twitter, Google, Yahoo!, LinkedIn, Dropbox, Instagram, Foursquare and Flickr. It also allows you to more easily browse and tweak the preferences of installed Facebook apps too. With Facebook you see a list of apps and the levels of access they offer. You can quickly remove all of these -- or simply de-select those you wish to keep -- or tweak individual permissions so they continue to function without accessing as much data as previously.
Other services, including Facebook on the iPhone and Android app, work by simply pointing you towards the relevant site's app settings, making MyPermissions more a series of glorified shortcuts than anything else. Nevertheless, despite this the service still has its upside, not least of which is being able to alert you every time an app uses some personal information going forward.
Even if you do not plan to use the app or add-in going forward, it is worth giving MyPermissions a quick test drive, just to see how much personal info is leaking through all those apps you installed and promptly forgot about.
MyPermissions Cleaner for Chrome (0.5.1), Firefox (0.3.7), Internet Explorer (0.5.1) and Safari (0.5.1) are all available as a freeware browser plug-in for Windows, Mac and Linux. My Permissions Online Privacy Shield is a free app for iPhone and Android.