Mega gets official Android app, iOS and Windows clients to follow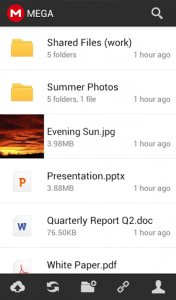 Cloud storage locker Mega has turned a blind eye to the ever increasing popularity of mobile devices, offering no official app for Android or iOS (let alone BlackBerry or Windows Phone) to complement its security-oriented service. Now, though, Mega looks to finally fix the oversight.
The cloud storage locker just introduced its first mobile app called Mega which, at least at the moment, is only available for Android devices. The offering, according to the changelog, was "acquired by MEGA and is now being maintainted [sic] by MEGA contractors". Let's take a look at the features.
Considering that this is the first official iteration, the available functionality is pretty appealing. mega touts "fast up- & downloading", image thumbnails and the ability to manage file and folder links as well as to perform various related operations (like create, delete, move and rename).
The feature that I particularly find as the most interesting is camera sync -- this automatically uploads snapped photos and recorded videos to the user's Mega account. The functionality is also provided by Dropbox and SkyDrive (on Windows Phone).
Mega says that iOS and Windows apps are in the final development stages and will "follow suit". The cloud storage locker has provided no exact date as to when users can expect the new apps.
Mega is available to download from Google Play.