S-commerce -- Matching service buyers and sellers in a blur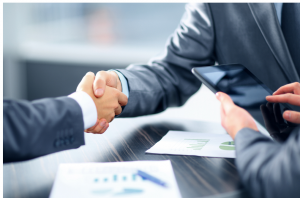 The use of e-commerce sites has radically changed the way consumers buy day-to-day items. Now the blur Group is hoping to do the same for business services with an addition to its successful global services exchange.
The blur Group site provides an exchange which allows enterprises to list project requirements for services like design, content creation, legal and accounting services, experts can then pitch for the work. This type of social commerce (s-commerce) platform is proving increasingly popular as it allows SMEs to compete on a level playing field with larger businesses when looking for services. The launch of blurSense, an intelligent matching system which uses a clever algorithm to match pitches with projects, should allow businesses to further streamline the way they buy services.
By introducing the blurSense app, it aims to correlate projects and pitches more precisely in order to make for a smoother process. The self-learning algorithm improves accuracy over time. It also allows service providers to improve pitching because they can see the factors that affect the score.
Philip Letts the CEO of blur Group says, "blurSense brings a new generation of intelligent apps to the Exchange platform. Introducing ratings and reviews to a b2b platform is a key component of s-commerce: now blurSense can be used to further automate pitch and project matching at scale. The self-learning algorithm is one of blur's most innovative pieces of platform technology to date and will result in shorter pitch review timelines, as well as an even better experience for all Exchange users".
Have you used online exchanges to source business services? Let us know your experiences of this way of working below.
Photo Credit: EDHAR/Shutterstock