Move BeyondPod to Feedly, after Google killed Reader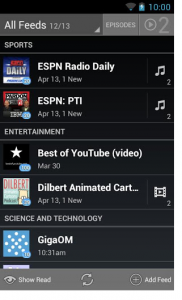 By now you are likely sick of hearing all of the bemoaning over the death of Google Reader, but the fact is, this affected more things than it would seem on the surface. If you happen to have an Android device and listen to podcasts, then you will notice that popular app BeyondPod stopped updating on July 1.
BeyondPod used Google Listen for its backend, which, in turn, relied on Reader. When the latter died, it dragged the former down into the grave with it. Sadly BeyondPod was not able to get its update together in time for the RSS aggregator's demise. However, the company is testing the new version, and has elected to migrate to Feedly for its backend.
There are a few steps you must walk through to get things fixed, and the process, while not difficult, is far from being painless.
To get started, create a Feedly account, then point your browser to BeyondPod v3.1.31 (phone) or v3.10.31 (tablet) and download the APK file. Plug in your device then transfer the file over for installation. You may also want to backup your BeyondPod data before going any further -- just in case something goes terribly wrong. To do this, head to Menu, More, Settings and then Backup & Restore.
Once in BeyondPod, login to Feedly by using Add Feed, Import Feeds (the icon in the upper right) and finally Import From Feedly. Follow the instructions to log into your account (make sure to use the same login as you used in Reader). Once you see the list of feeds from Feedly, just exit back to the main BeyondPod window (there is no need to import anything).
Make sure to update your feeds so they can re-sync with Feedly. The best way is to select the "All Feeds" category and use the "update category" toolbar button (next to "+ Add Feed") -- this will update all feeds in all categories at once.
Once you are finished with all of these steps then you will be up and running (but you are now about to discover the painful part). BeyondPod points out that "because Feedly uses a different mechanism to track episodes, your download history (which episodes were downloaded in the past) will be lost. Based on your download settings old episodes may be re-downloaded on the next update. Make sure to check your feeds and manually mark as 'read' any old episodes that you do not want to download".
Now you should be receiving your podcast updates once again, so plug in your headphones, sit back and relax. Naturally, if you encounter any problems in these steps then I claim no responsibility. Seriously, it works, so no worries.