Evernote Touch 2.0 for Windows 8 gets new hub page, improves editing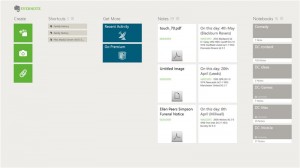 Evernote Corporation has released Evernote Touch 2.0, a major update of its touch-friendly Windows 8 app. The latest version's main new feature is a hub page providing a summary of the user's account, while it also promises improved editing tools and support for Business accounts.
The major new highlight is undoubtedly the hub page, which is the first thing users will see when logging into the app. All of its core navigation items as well as an overview of the various parts of the user's account, including notes, notebooks, tags and shortcuts, can now be found here.
The hub page also places three visible shortcuts for creating new notes from text, snapshots or file attachments. Support for Evernote Business users is found in the Get More section, with Recent Activity providing updates in both shared and Business notebooks, plus an option for accessing the user's Business Library. Business notebooks also show up in blue under the the adjacent section.
The Notes section is organised according to the user's sort preference for notes. Hidden off to the right of most screens is the shortcut for tags. Each column on the hub page has a shortcut that reveals the full list for that section.When viewing notes, users can now create shortcuts that give them fast and easy access from the hub page. Another improvement allows users to quickly strip formatting from a note (or convert it to plain text) by tapping the remove formatting icon when editing and choosing the relevant option (Simplified formatting or Make Plaintext).
The update also now supports two-step verification for logging in with additional credentials and is rounded off with the usual, numerous -- but unspecified -- bug fixes.
Evernote Touch 2.0.0.38 is available now for Windows 8 and Windows RT devices. Also available are the Windows desktop version as well as apps for Mac, iOS and Android.