jAlbum resolves memory issues, improves page customisation tools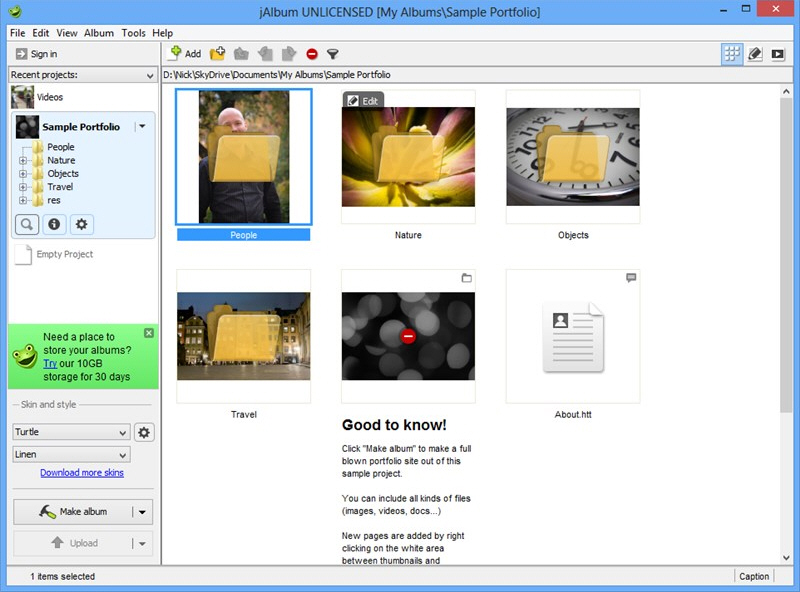 jAlbum AB has put out another minor update of its cross-platform web media album builder with the launch of jAlbum 11.3. The app, which runs on Windows, Mac and Linux, simplifies the task of building both picture and video galleries for displaying online in the form of web pages.
Version 11.3 attempts to provide a better showcase of the program's capabilities by preloading a Sample Portfolio project that demonstrates how to make a full portfolio site by using sub-folders and custom Contact and About pages. Users can then use this as a template or a tutorial for building such sites using the app.
The new build also adds support for skins that provides user interfaces for custom web pages such as About and Contact. This allows developers to provide end users with the ability to customize these pages from within jAlbum's own graphical edit mode as opposed to having to edit the underlying HTML. Again, the sample portfolio provides examples of this in action.
Other changes are more minor: it's now possible to order album objects by titles and captions, while users can now view and edit titles (along with filenames and captions) from the Thumbnail view. The label type in thumbnail view has also been made visible and editable from the status bar.
jAlbum 11.3 also automatically creates web-safe filenames should "unsafe" characters such as #, %, ? or & be used in filenames without URL-encoding being active. This should ensure fewer viewing problems with these pages.
The update also comes with minor tweaks to the user interface, better naming of CPU threads in the underlying code and "more robust reading" of camera metadata. The recent project list now displays a maximum of 50 files, comes with an updated (4.3.0) Turtle skin and includes various translation updates.
Bug fixes include better memory management, particularly with large files on low-memory machines. Other resolved issues include one that caused Windows systems to hang or start sluggishly due to misconfigured printer drivers, plus the restoration of support for opening album projects simply by dropping the album folder into the jAlbum window.
jAlbum 11.3 is a free-for-personal-use download for Windows, Mac and Linux. Published web albums are ad-supported – users can purchase a license or JAlbum hosting account to remove these. At the present time, a 30 per cent discount is being applied across all versions, making the entry level Standard, non-commercial license just $27.