From HERE to there, Nokia updates its navigation apps, adds live tile ETA for destinations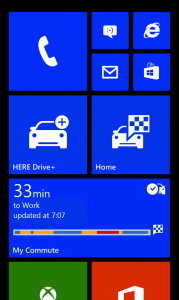 Finnish maker Nokia announced, on Tuesday, that its HERE Drive, Drive+ and Transit Windows Phone 8 apps will receive an update later this week, which adds new navigation tools and improves the user interface.
HERE Drive and Drive+ get the most noteworthy enhancements, with the latest versions introducing an overview of traffic conditions in surrounding user areas and My Commute, a new feature which allows folks to view the estimated time of arrival to a set destination on the adjacent live tile.
Nokia says that My Commute provides the "best route and the expected arrival time", by monitoring the user's route, informing of any upcoming delays and suggesting alternative paths. The feature can manage multiple commutes and is offered in 26 countries (Nokia doesn't mention which at the moment).
The latest HERE Drive and Drive+ update also refreshes the user interface to make it "more intuitive", with a similar treatment being applied to HERE Transit. According to Nokia, the third app's UI looks more similar to that of Windows Phone 8.
The latest versions of HERE Drive, Drive+ and Transit will not be restricted to Nokia's Lumia lineup, instead the offerings will be available to "everyone with a Windows Phone 8 smartphone". And, depending on the location, users may be required to pay to use the aforementioned apps.