Best Windows 8 apps this week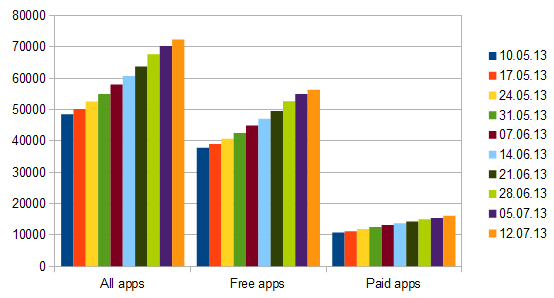 Thirty-seventh in a series. The app growth has slowed down considerably again in the past two weeks. This week growth made it past the 2,000 new apps mark, but barely with a total of 2,083 new apps. That's almost half the growth we saw two weeks ago in the Windows Store.
The total application count in the US store is 72,382 applications. 56,315 of those apps are free to download and use, while 16,080 are paid apps or desktop applications.
The fastest growing categories this week are the Music & Video category with 913 new apps, and the Books & Reference category which saw an increase of 447 apps this week.
Three major apps received updates this week. The Nokia Music application received an update that introduces in-app purchases of music. Other improvements are a recent songs listing that highlights music that just played, and a makeover of the My Music section of the app.
The official Evernote application for Windows 8 was updated as well this week, improving the user experience for Windows 8 tablet and touchscreen users. The application features a new start page, note taking with file attachments, tag-based browsing, and the display of shortcuts that you have created in the app or in other Evernote versions.
ESPN has updated its application for Windows 8 as well. It features a redesigned main hub page and redesigned news feeds for the sports that it covers. Other new features include an update to the internal video player, performance improvements, and a responsive design that better adapts to various screen resolutions.
In other news, Microsoft has also updated the security update policy for third party store apps. It requires companies to patch security issues within 180 days of notification if they are classified critical or important and not exploited in the wild.
App of the week
None this week.
Other apps
Einstein Brain Trainer ($8.99)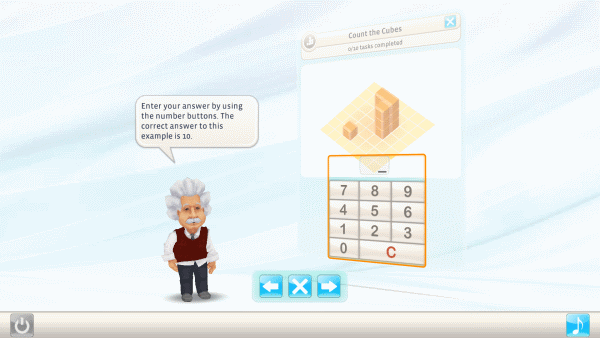 The game follows in the tradition of other brain trainers. The first thing it asks of you is to complete a basic test where all main game mechanics and some of the puzzles are explained to you. This acts as a tutorial and gives you a good understanding of how the game actually works.
Once you have completed the test you are taken to the exercise screen where you can access workouts, compete multi-player on the same computer, or play one of the available puzzle games to improve your score or practice it.
You can also access statistics that show how your skill developed over time or your brain capacity based on previous test results.
Dogfight ($3.49)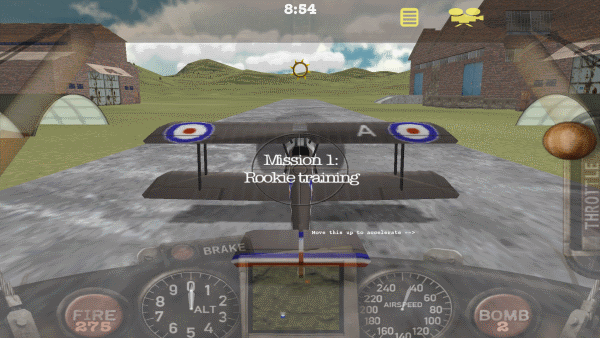 Wings on the Amiga was the first World War I airplane combat game that got me hooked. Dogfight for Windows 8 follows in that game's tradition, but without the excellent story telling and versatility. That does not necessarily make it worse, as it adds multi-player instead.
You move your plane with the cursor keys, use Ctrl to fire, B to bomb and C to use the Camera. The W and S keys are used to throttle.
It is probably a good idea to start with the practice mission before you start to compete against other players. Note that you do need to create an account before you can start to do so.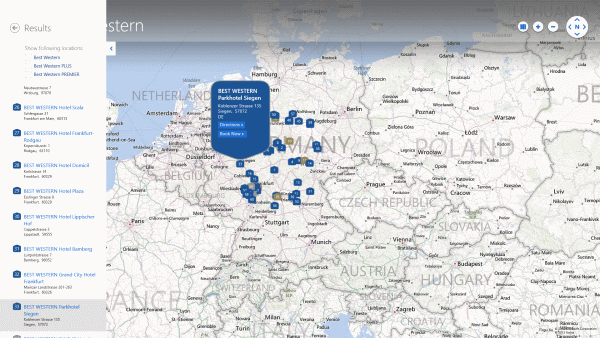 The official Best Western application for Windows 8 provides you with options to find and book reservations in Best Western hotels worldwide.
The application can detect your location automatically if you give it permission for that. If you do not want to do so, you can enter locations manually or browse the world map instead to find hotels this way.
Hotels are indicated by numbers on the map that you can click on to get directions or start the booking process. What is not so good is that you are redirected to the default web browser when you try to book, as this is not handled by the application.
The second issue that I have with the app is that it does not display phone numbers, only addresses.
Citizenship Test ($1.49)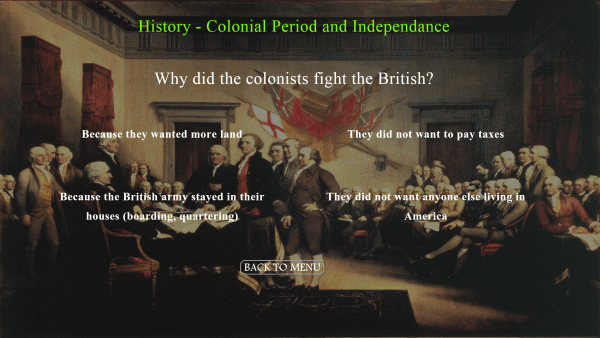 If you are currently preparing to take the US Citizenship Test then this app may come in handy. It displays 10, 20, 50 or all questions that the test contains in its interface.
All questions are displayed in multiple choice format on the screen. A click on an answer takes you to the next question if you have picked the right one, or keeps you at the current one if you answered it incorrectly.
Bomberman Saga / Power Bomberman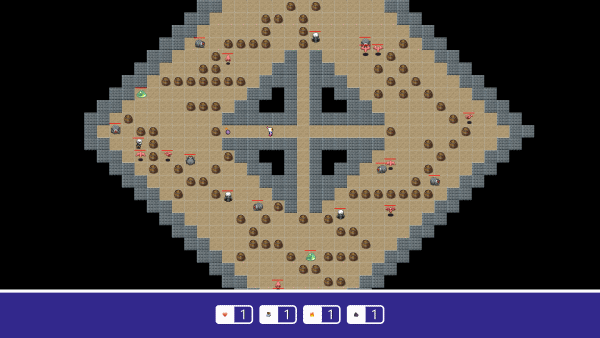 This is a single player Bomberman game in which you have to clear the levels of wandering monsters. You control your character with the cursor keys and place bombs with space.
Barrels scattered throughout the level may contain extras like boots that make you faster or additional bombs so that you can place more than one on the screen.
The game is free to play but not very long nor particularly challenging. The monsters do not really chase you at all in the level. It is still fun to play for a while though.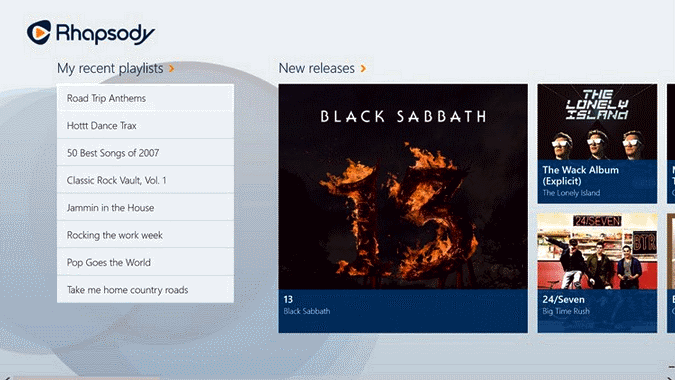 You need a Rhapsody music subscription to make use of the Windows 8 application. The sign up now to start trial button redirects to the official Rhapsody website in the default system browser.
The application itself provides you with access to Rhapsody's full catalog of music. You can play full length albums here, create custom playlists or use the integrated discovery options to find music you are interested in.
The application has been designed to help you with kitchen related tasks. It comes with four tools that you can make use of:
Recipe Book -- Add your recipes to the book to have them in reach when you need them.
Unit Converter -- Convert tea or table spoons to gram, or cups to milliliter.
Weekly Menu Player -- A basic calendar that you can make use of to plan breakfast, lunch and dinner for the next week.
Shopping List -- Add items to your shopping list.
The application lacks an option to print out the information. This means that you need to take the app with you when you are shopping which may not always be possible.