6Sec seeks to replace the need for an official Vine Windows Phone 8 app

Prolific Windows Phone developer Rudy Huyn (known for popular offerings like 9Gag, Fuse and Wikipedia) has finally released the much-awaited, third-party Vine client called 6Sec. The new app arrives in Store after a lengthy development and testing phase and, right from the get-go, is touted to provide complete functionality.
The odds, however, are against Huyn's client -- according to Finnish maker Nokia, an official Vine app will "soon" launch on Windows Phone 8. 6Sec will, therefore, face fierce competition and, in order to gain considerable traction, must offer unquestionable value straight from its first iterations.
In order to browse Vine, folks have to log in with an existing Twitter (listed as the main sign in option) or Vine account (a new one can also be created in this case), after powering up 6Sec. I chose the former (I advise you to do the same, as it does provide some benefits).
After logging in, users are greeted with a brief tutorial on how to handle -- comment, like, revine and share -- Vine videos in the feed -- horizontal swiping reveals the available options. This is a very neat feature, which makes the app quite user-friendly, seeing as gestures are not overly intuitive (or always obvious).
By default, Vine videos automatically play as you scroll the feed. Thankfully, this feature can be disabled in the 6Sec settings menu, as it is quite annoying when you just want to see the latest updates but don't want to watch them all. Videos can be played, paused and resumed simply by tapping on the thumbnail.
As previously mentioned, there are some advantages to using an existing Twitter account with 6Sec. The app automatically picks up your profile picture, username, description, location, list of Twitter users whom you follow and have signed in on Vine and allows you to directly share videos on Twitter without any extra steps (like logging in with your account).
Folks can also share on Facebook (straight from 6Sec) and LinkedIn (through the built-in "post an update" Windows Phone 8 menu, after tapping on the "social share" button). Video links can be copied and distributed (via email, texts or other social networking apps).
6Sec also provides a tutorial for recording videos. To post a new one, press on the camera pictogram (titled "record a vine"), hold the physical shutter button or tap on the screen and choose a short caption (less than 140 characters in length), sharing options and press "send vine". The app can display a three-by-three grid for increased recording accuracy, lets you set the focus zone, adjust flash and also use the front-facing camera.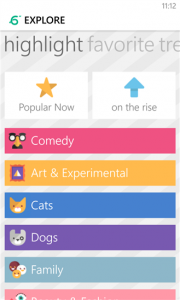 You can also delete your own Vine videos using 6Sec, by horizontally swiping (to the left or to the right) on the thumbnail, tapping on "remove post" and accepting the prompt.
There are other features as well, including search (works for people and tags) and explore (shows trending tags, popular and "on the rise" videos and provides access to Vine channels) as well as other, less noteworthy ones.
6Sec is available as a free download, but in order to upload more than two videos folks have to shell out $1.49 to "remove this limitation". Considering that the upcoming Vine app is unlikely to be offered as a paid offering, Huyn should consider releasing an ad-supported (free), fully-featured 6Sec version as well.
6Sec is available to download from Windows Phone Store.