Run Chrome extensions in Opera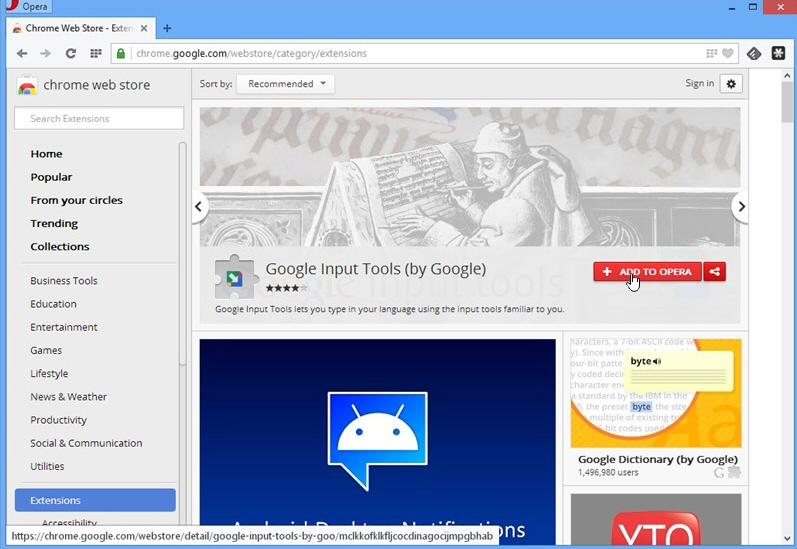 The rebooting of Opera 15.0 saw the niche browser switch to a new rendering engine, adopting Chrome's Blink in favor of its own proprietary Presto engine. In restarting the browser from scratch, Opera has opted not to include a lot of popular functionality from previous versions -- some of this is temporary, while others (specifically bookmarks) could be permanently lost.
One way of restoring some functionality is through extensions, small programs written in HTML, CSS or JavaScript. Opera has its own Extensions store, but the great news for early adopters of Opera 15 is that -- with the aptly titled Chrome Extension for Opera 2.0 installed -- you can use Google Chrome Extensions too.
All you need to do is install Chrome Extensions from the Opera Extensions store (or use our link). No restart is required, and as soon as it's in place, you can head off to the Extensions portion of the Chrome web store and see what additional features you can add.
Start by looking at Secure Bookmarks as an alternative to Opera's Speed Dial function. You can't import bookmarks directly from Opera, but you can manually add and organize them from your Speed Dial. Stylish allows you to create styles for different web sites and services, including Facebook and Google.
Developers might also like to try the Web Developer extension, which adds a toolbar button with various web developer tools, ported from Firefox's own impressive collection. Another popular choice is Tampermonkey, which lets you manage all your userscripts.
We'd recommend always looking for a native Opera extension first then -- if you can't find it -- searching the Chrome Extension store instead. Not all extensions will work as you hope, particularly those that tap into specific Chrome features, but many will give you extra functionality and may help make the transition to Opera 15 that little bit smoother.
Chrome Extension for Opera 2.0 is available now as a freeware extension download for Windows and Mac users running Opera 15.0 or later.