Twitter for BlackBerry 10 once again gets features available everywhere else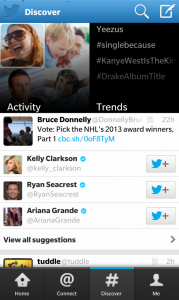 Popular social network Twitter just released a refreshed BlackBerry 10 app, which now finally brings support for traditional features, already available to those relying on the Android, iOS or Windows Phone counterpart, like multiple user accounts and the ability to save embedded images.
The latest update is designed to bring the BlackBerry 10 app closer, in terms of functionality, to Twitter's offerings from other platforms. It now "helps you connect more seamlessly to the people and topics you care about", according to the popular social network. Let's take a look at the complete changelog.
The latest version introduces an enhanced direct messages feature, which now integrates with BlackBerry Hub in order to allow users to read, reply and write DMs without having to power up the dedicated Twitter app (though it can be done the old-fashioned way too).
BlackBerry 10 users can add and manage multiple Twitter accounts -- a maximum of five. By contrast, the Android, iOS and even Windows Phone apps have had this option for quite some time.
The latest Twitter app for BlackBerry 10 also comes with a new Discover page, which is meant to beef up engagement by providing the ability to find recommended accounts to keep an eye on, stay up to date with the latest follower developments and more.
Folks can also now save embedded (shared) pics straight to the gallery on their BlackBerry 10 device. Other noteworthy changes include improved search (it adds username and hashtag suggestions to queries, as well as a search history) and "widened timelines" that take up more space of the available screen estate.
Twitter is available to download from BlackBerry World.