Defraggler update delivers faster performance and interface improvements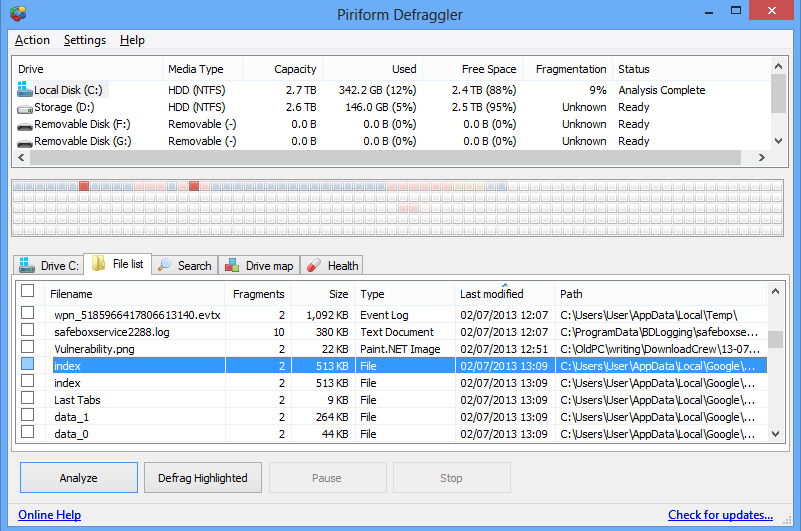 Piriform has released Defraggler v2.15.741 and Defraggler Portable v2.15.741, brand new editions of its popular Windows defragmentation tool. Such lengthy version numbers usually mean this is a very minor update indeed, but not here: these new builds have some excellent additions and enhancements.
Top of the list is improved performance for both Analyze and Defrag functions across all operating systems.
Improved feedback -- in particular, new progress information for boot-time defrags -- will help you better understand what the program is doing.
Defraggler's File List (a list of fragmented files) now includes File Type and Last Modified Date columns. Sounds trivial, but keep in mind that you can sort by these fields, so it's now easy to pick out which file types are the most fragmented, or spot when fragmentation is most likely to occur.
The program has been tweaked to do a better job of handling exceptions, including locked, read-only and unmounted drives, which should improve its reliability.
And the official Defraggler Version History page records the usual scattering of smaller and rather vague tweaks: "improved Context Menu defrag features", "added additional drive information", and "minor GUI improvements and bug fixes" being about as specific as you're going to get.
Defraggler v2.15.741 and Defraggler Portable v2.15.741 remain free for personal use, and run on Windows XP to 8, both 32 and 64-bit editions.