Surface RT sales suck and here's why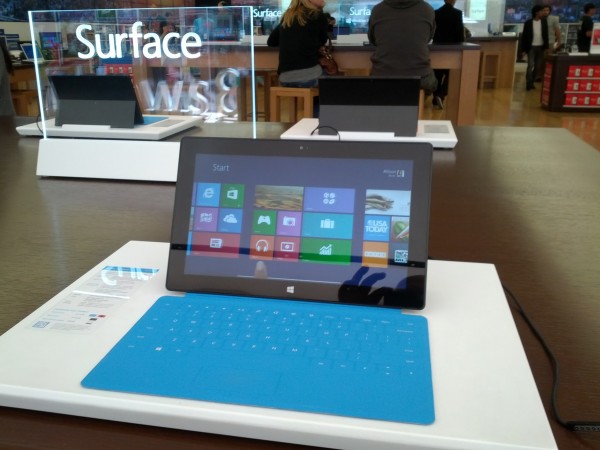 Late-yesterday, Microsoft released its latest financial results, for Q4 fiscal year 2013, revealing a whopping $0.9 billion charge that is "related to Surface RT inventory adjustments". The $900 million that the software corporation just wrote off is a telltale sign that its Windows RT-based tablet is not selling as well as the company expected, leaving considerable stock unmoved.
Here are the highlights of the Q4 FY13 financial results: $19.89 billion in revenue, operating income of $6.07 billion and $4.97 billion as net income (or, 59 cents per share). The numbers are below analyst expectations, which placed revenue at $20.73 billion and net income at 75 cents per share. According to Microsoft CFO Amy Hood, Surface RT can be partially blamed for the less-than-stellar financial results.
"We reduced the price of Surface RT by $150 to $349 per device. As a result of this price change, as well as inventory adjustments for related parts and accessories, we recorded a $900 million charge to our income statement", says Hood. "While this resulted in a -$0.07 impact on earnings, we believe this pricing adjustment will accelerate Surface RT adoption and position us better for long-term success". Basically, that is wishful thinking.
A rough calculus shows that Microsoft has up to six million Surface RT units in unsold stock, sitting around. This does not take into account the "related parts and accessories", but even if the calculus does, the number would still not favor the software giant's tablet when it comes to consumer appeal and market adoption. And, there are a couple of very good reasons for why that is, the first of which is limited availability.
According to Hood, Microsoft sells Surface slates in "29 markets and more than 10,000 retail locations". And that is simply not (good) enough to take on any major player in the tablet market. The software giant has to broaden the Surface RT availability in upcoming months, or starting with its next slate iteration, if the company wants to avoid a similar recurring charge. People may line up to buy Surface RTs, but only if they can head into a store (be it brick and mortar or online) to do it. For many, that is still a no-go. And, so is the inadequate power.
Prospective Surface RT buyers currently have to look past the oudated hardware that powers the slate in order to buy it and enjoy the experience. Let's face it, the Nvidia Tegra 3 processor is not the smartest choice, with feedback from reviewers and users alike pointing out the lack of oomph when browsing some websites, navigating the Modern UI or running resource-intensive apps. Admittedly, this is a first-generation product, but buyers are not looking for excuses -- people want a device that simply works well.
Windows 8 may have received lukewarm reviews, but its ARM-compatible sibling certainly drew the short straw when it comes to receiving constant criticism (and, of course, based on merit). Windows RT is, dare I say, flawed as it cannot run legacy apps, which most Windows users are relying on. And, as a first-generation product, the new operating system was (and continues to be) let down by the limited app selection available through Store. Some major titles arrived down the road, but not soon enough to boost Surface RT sales.
In selling Surface RT, Microsoft has also been dealing with the market perception. People used to the idea that the software giant's previous operating systems can run legacy apps, were in for a big surprise when learning that Windows RT cannot offer the same benefit. Microsoft simply did not make this clear enough from the get-go, nor did the initial app selection help in easing the transition to ARM-based products.
There are other things as well that work against Surface RT, with one of them being Microsoft's own Surface Pro which, even though it comes with lower battery life, is an appealing tablet for current Windows users looking to take their work on the go, without having to ditch traditional software and readjust to limited mobile apps in the process. I'm certainly not alone in saying this, but I've considered buying a Surface RT only to realize that what I really need is a Surface Pro (which I'm likely going to purchase soon, come upgrade time).
But, the real issue that plagues the Surface RT is the lack of value. Microsoft's tablet does not excel at offering tremendous battery life, an excellent price (that can be argued now, but not prior to the $150 cut), outstanding hardware or unbeatable portability. Folks can look the other way and not regret it as, at least for now, there are other tablets better suited for the aforementioned needs.