Motorola announces a trio of flagship Android smartphones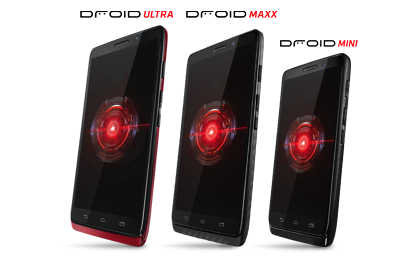 In the classic children's story "Goldilocks and the Three Bears", the protagonist encounters a family of three bears. The three are distinctly different and are described as a father, mother and baby. Yesterday, Motorola and Verizon followed in Goldilocks' shoes and announced a family of new Android phones for the famous "Droid" line  -- Droid Maxx (father), Droid Ultra (mother) and Droid Mini (baby).
By offering three different devices, Motorola hopes that much like Goldilocks, the consumer will find one that is "just right".
According to the companies, all three devices feature a DuPont Kevlar fiber chassis, Gorilla Glass screen, and a water resistant coating. This makes the devices especially strong and allows the consumer to safely use the products naked (without a case that is -- I don't mean the consumer should be naked). Also, the devices all make use of Motorola's new octa-core system on a chip (SoC) with 2GB of RAM. Camera lovers will be thrilled to know that the smartphones all feature a 10-megapixel camera capable of 1080p recording.
Verizon describes some of the differences between devices as follows:
DROID MINI ($99): A compact design with an edge-to-edge 4.3-inch HD display and wireless charging capabilities.
DROID ULTRA ($199): The thinnest 4G LTE smartphone available, measuring 7.18mm, and with a 5-inch HD display. The ULTRA will be available in Black and Red models.
DROID MAXX ($299): Features wireless charging and a 3500mAh battery that gives users nearly two days of battery life on a single charge, making it the longest lasting 4G LTE smartphone available.
Android users should be very excited as these devices put all current Android smartphones to shame. As an owner of one of the previous generation, a Droid RAZR Maxx HD, I can attest to the durability of a Kevlar body -- it is phenomenal. Also, the claim of 2-day battery life should be believed as I often got more than that on a single charge.
Will you be pre-ordering one of the devices? If so, which one have you determine to be "just right"?