Ring around the nerdy -- NFC ring hits kickstarter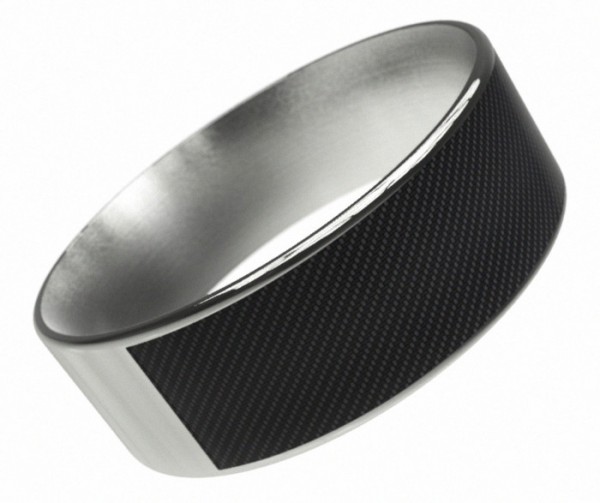 Nerds love rings; it's a fact. Don't believe me? How do you explain Green Lantern, the Wonder Twins and Lord of the Rings? Exactly. Unfortunately, we nerds can only dream of owning a magic ring -- we have to settle for cheap knock-offs for cosplay. However, things are about to change, well sort of, as an NFC enabled ring has been introduced on the crowd-funding site, Kickstarter.
NFC stands for Near Field Communication -- it enables communication between two touching NFC-enabled devices. Have you seen the commercials where people transfer pictures by touching their smartphones together? That is NFC. According to the ring's inventor, John McLear, the NFC technology in the device "can be used to unlock doors, mobile phones, transfer information and link people. Best of all the NFC Ring glides right onto your finger -- no updates, no charging, and no fuss". In other words, technology has enabled nerds to finally feel like they have a magic-powered ring.
Since NFC can be applied to anything, the opportunities are limitless. For instance, someone with health problems could have pertinent medical information stored on it. It could also be used by the military to restrict access to data -- this technology could have thwarted Edward Snowden. However, the device can simply shine with one of the suggestions of the inventor; unlocking doors. People could stop carrying old-fashioned keys and consolidate them all into a single ring.
While this has the potential to be a privacy nightmare, the inventor has proposed an ingenious way to safeguard sensitive information and functions. The ring features public and private sides. The private side is closest to the palm of the hand which makes it unlikely that someone could access it without the user's knowledge. Unfortunately, as someone who wears a ring daily, I worry that this is flawed. The ring I wear has diamonds on it that should face out. However, it is not uncommon for my ring to twist and turn throughout the day so the diamonds are facing the wrong way; the same could happen to the NFC ring.
The crowd-funding initiative will end on August 19th. At the time of this writing, the project has already received twice its goal. In other words, this thing seems guaranteed to be produced.
Will you be backing the project? Will it fulfill your childhood dreams of possessing a magic ring? Tell us in the comments.