Nexus 7 (2013) Travel Cover by Asus [Review]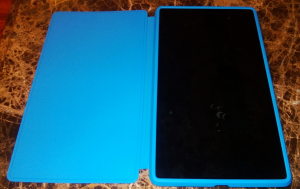 Smartphones and tablets are no longer just electronic devices -- they are fashion statements. It is becoming increasingly rare to find someone using one naked (without a case or cover). At some point, our iPhone-culture started to demand that our devices remain in flawless condition; this birthed an entire industry of fashion-based device protection. Yes, there were leather pouches and cases for old Palm Pilots and flip-phones, but a scuff or scratch on those devices was inconsequential.
When I received my second-generation Nexus 7, there were no cases available locally. I found that I had anxiety when using the tablet naked -- I was fearful of breaking or scuffing it. Luckily, I have an Amazon Prime account so the official Asus-made travel cover was only a day away (with $3.99 one-day shipping). I am happy to announce that the cover has arrived to my house so I can share my thoughts of it with you. So, is this cover good?
Yes and no.
It is a very pretty case that comes in multiple fun colors including green, orange, pink, dark grey and light blue. I opted for the light blue, as dark grey is too boring and the other colors looked a bit childish. Upon opening the box, I was very impressed with the material -- it is not hard like a TPU case, but is softer like a silicone or rubber. This lends to a really comfortable feeling in the hand. Unfortunately, the material also provides a semi-loose fit. While the case is not so loose as to fall off, it takes away the premium feel of the naked Nexus 7. The same material is used for the front flap which is appreciated as a screen protector when closed.
However, it is that same front flap that is the biggest negative for this cover. For some reason, Asus chose not to utilize magnets to enable the screen on and off feature. If you are not aware, both the first and second-generation Nexus 7 tablets can have the screen turn on or off with a compatible cover. The decision by Asus to exclude this feature is very curious -- why build the feature into the tablet, but then not use it with the cover?
Sadly, this is not the only issue with the front flap. Asus did not implement a way to secure the flap (keep it shut). A decision that is troubling because if you choose to throw the tablet in a backpack or similar bag, the flap can easily open and cause the screen to be scratched by loose objects (keys, pens, etc.).
On a positive note, I am happy to report that the Qi wireless charging works flawlessly with this cover on. When testing with my Nokia DT-900, I had no issues with the charger recognizing the tablet. In fact, since the cover material is so thin, the tablet successfully charged with the front flap folded around the back.
Overall, because of the front flap, I cannot recommend this cover. Unless you are in dire need of protection for your second-generation Nexus 7, you would be better to wait for a third-party offering. There are likely already countless manufacturers ready to flood the market with potentially better covers, with better features and at a better price. Those third-party covers cannot come soon enough.