Spybot promises better performance, smoother installation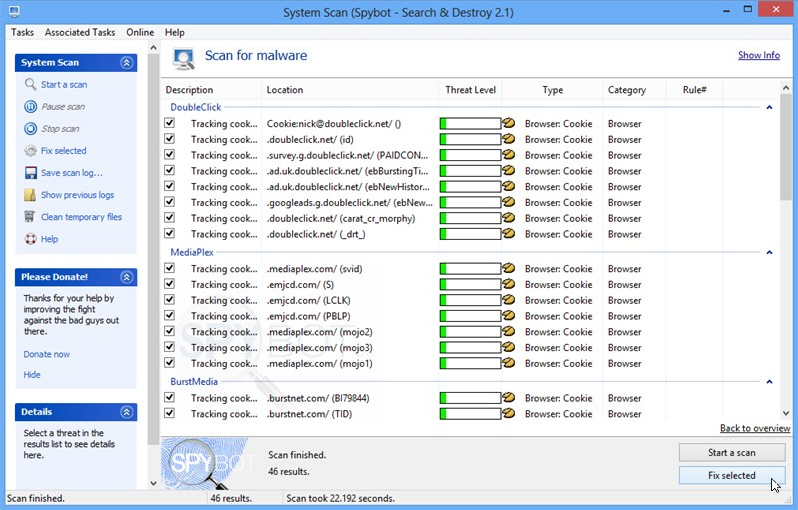 Safer Networking has announced the release of Spybot -- Search & Destroy 2.1 SR2, a minor update to its popular malware-cleaning tool. Spybot S&D comes into two flavors -- a free-for-personal use edition that concentrates on anti-spyware protection, or various paid-for versions that come with extra anti-virus protection plus additional tools.
Version 2.1 SR2 comes with few visible changes and no new features, but it does respond to user feedback in tweaking the default Internet Protection settings to provide better performance, although what security compromises have been made to achieve this aren't made clear.
Service Release 2 also comes with the promise of better targeted information about the status of various options, delivered via the program's Start Center screen and Notification area icon.
The update also promises further performance enhancements via unspecified "background improvements", and also updates language files for better translation. There's also the promise of a smoother installation experience.
The update is the second maintenance release since Spybot 2.1 debuted back in May. This added a built-in anti-virus engine and multi-core support to paid versions for faster scanning, while giving all users the opportunity to selectively remove malware from their system.
It also shipped with a new MRU scan that targets only recently changed files as well as an improved Rootkit scanning tool.
Spybot -- Search & Destroy 2.1 SR2 is available now as a free-for-personal use download for PCs running Windows XP or later. Users can then upgrade to the Home edition for $13.99 or the Professional edition for $25.99 to gain additional functionality.