jAlbum fixes red-eye reduction tool, promises faster project loading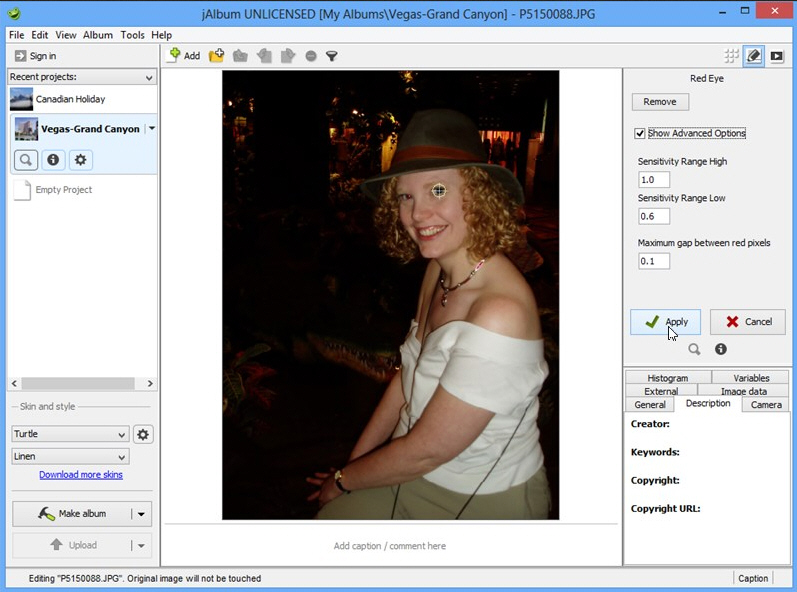 jAlbum AB has released jAlbum 11.4, a minor update of its cross-platform web album building tool. The software, available for personal use as a free, ad-supported program, resolves an issue that saw the red-eye reduction tool get broken, plus comes with the promise of faster loading times for larger projects.
This performance improvement claims "significantly faster (around 10 times)" loading of large album projects with sub-folders.
Version 11.4 also puts the user interface folder view in sync with the operating system for the first time, so new, modified and deleted files are now immediately reflected in the program, removing the need for the user to select View > Update.
Developers are given a guarantee that any custom template pages will have all variables present during script processing operations, so long as they're specified within the <ja:ui> element on the page, removing the need for them to check for void variables.
The new build, with comes with an updated Turtle skin (version 4.3.3) also fixes a bug whereby cancelling an album object move by moving the caret back to its initial position instead left the selected objects placed at the end instead, and is rounded off with several, unspecified, minor code fixes.
jAlbum 11.4 is a free-for-personal-use download for Windows, Mac and Linux. Published web albums are ad-supported -- users can purchase a license or JAlbum hosting account to remove these. Prices start from $27 for a Standard, non-commercial license, which represents a saving of 30 per cent on the MSRP.