Message Center reaches Office 365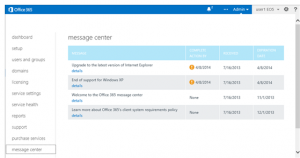 Office 365 has become a bit of a strange concept -- there is the original web-based version, as well as the newer desktop Home Premium iteration that functions as standard Office 2013, though with added benefits. Now the software maker is introducing Message Center to its web version of the suite.
The latest update is described by Microsoft's Jake Zborowski as "a new admin feature for communications. Message Center will help inform Office 365 admins about new features and actions they need to take to keep their Office 365 service running smoothly".
This essentially functions a bit like email, but is controlled by the administrator and used to dole out information such as system alerts and the like.
"This is our first release of the Message Center. Over time we'll continue enhance the experience by adding new features. Some items on our list include delivering communications in your preferred language and information that is specific to just your organization", Microsoft states.
It is not clear if this is a gradual roll out, as Microsoft said nothing on this. Administrators should have access very soon, if not already, and the new service should enable better control over Office 365.