Firefox 23 enables mixed content blocking, consolidates search settings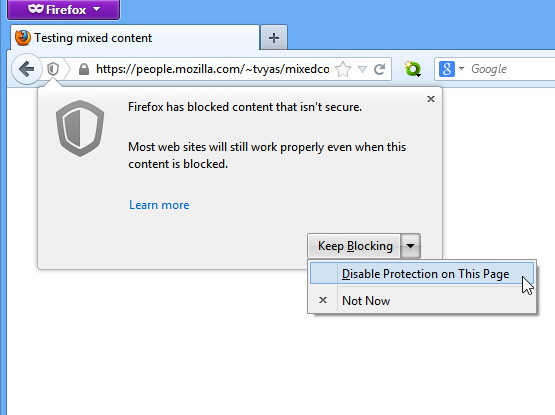 Mozilla has released Firefox 23.0 FINAL, the latest version of its open-source, cross-platform browser for Windows, Mac and Linux. The new build's main highlight is the implementation of mixed-content blocking for improved security, but it also comes with a host of minor changes, including one that has already provoked a negative response from power users.
The controversial change is the consolidation of search default preferences so both Address bar and Search bar use the same default search engine. Previously Address bar searches defaulted to Google regardless of the default provider set in the Search bar.
The major consequence of this move is that the keyword.url configuration option has been removed, which previously allowed users to set their own choice of default search engine for the Address bar. Note that existing keyword searches are not affected.
Frustrated users willing to risk breaking some other search features can restore the keyword.url functionality with the experimental keyword.URL Hack! add-on.
The new Mixed Content Blocker feature is now switched on by default – this now blocks certain insecure content -- such as scripts -- on secure websites by default to prevent eavesdropping and "man-in-the-middle" attacks.
On visiting such a site, all active insecure content is disabled and a small shield icon in the address bar will alert the user to the presence of insecure content. To view this content, click the shield icon followed by the Keep Blocking drop-down menu and choose Disable Protection on This Page. All content will subsequently load and the usual yellow warning sign indicating mixed content will be displayed in its place.
While passive content isn't blocked, the site will not display a lock icon because it's not fully encrypted.
Other improvements in Firefox 23 include a revamped program icon, plus the addition of a "click-to-start" option for disabled plugins. Instead of disabling or enabling plugins under about:addons, users can set plugins to "Always Activate" or "Never Activate". By selecting the latter option, plugins won't run unless a website specifically requests them, in which case the user can click to confirm the use of the plugin on that website only.
The new SocialAPI gains a number of updates in this release: support for a new Share Panel, full-screen video chats, a SocialMark recommend button and initial support for Web Install, which is designed to facilitate the finding and installation of new social providers.
Developers gain a new global browser console, plus a new Network Monitor toolbox, which provides a timeline view of network activity on a website -- the data has been available since Firefox 4.0, but is now presented in a more accessible form. Similarly, the about:memory configuration screen provides a more functional user interface.
Three options have also been removed from the Preferences dialog: Load images automatically, Enable JavaScript and Always show the tab bar. The about:memory user interface is now more functional, and there are also a number of developer updates including partial support for Web Audio, enabled for testing purposes. Mac users should also see Firefox adopt the new scrollbar style implemented in Lion (OS X 10.7) and later.
Firefox 23.0 FINAL is available now as a free, open-source download for Windows, Mac and Linux.